One of the fun things about having kids in school is them reminding you a few days before a project that they need a costume and props. Thankfully, I'm not only handy with sewing, but with a hot glue gun.
Leelee is reading Sarah Cynthia Sylvia Stout Would Not Take the Garbage Out in school today. She memorized the entire poem. Very proud of her. Last night, I whipped out my glue gun and attached trash to black fabric. The things we do for our children!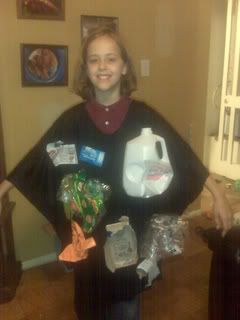 Last night I finally gave in to my cookie craving and had the time to make a batch of cookies. I found the
recipe at orgjunkie
. In order to make myself feel better about the recipe, I added 4T of flax seed. I know that's not much but it made me feel good LOL THey are super yummy and I could probably eat the whole batch.
Chocolate Oatmeal Cookies
Ingredients:
2 cups all-purpose flour
1/4 cup and 2 tablespoons unsweetened cocoa powder
2 teaspoons baking powder
1 teaspoon baking soda
1 teaspoon salt
1 teaspoon ground cinnamon
1 cup margarine (I used butter)
1 cup brown sugar
1 cup white sugar
2 eggs
2 teaspoons vanilla extract
2 1/2 cups rolled oats
1 cup semisweet chocolate chips
Directions:
Preheat oven to 350 degrees F. Grease cookie sheets. Stir together the flour, cocoa, baking powder, baking soda, salt and cinnamon; set aside.
In a large bowl, cream together the margarine, brown sugar and white sugar. Beat in the eggs and vanilla. Stir in the dry ingredients using a wooden spoon. Mix in the oats and chocolate chips. Drop by tablespoons onto cookie sheets, leaving 2 inches between cookies.
Bake for 8 to 10 minutes in the preheated oven, or until lightly browned. Allow cookies to cool on baking sheet for 5 minutes before removing to a wire rack to cool completely.