We are further suspending normal blog activities to share our fair experiences. Please bear with us til Saturday when all the fair fun will be done for another year!
Last night was the youth sewing and yeast baking. I do not feel bad at all for not placing. The person who took second place, IMO, should have taken first. It was the most incredible loaf of bread I have ever eaten. My apple bread paled in comparison. I also noted that the judges prefer blueberries. Every time someone has entered something with blueberries, they've placed first or second.
Leelee entered her recycled skirt in for the youth sewing. She used an old bedsheet with a funky pattern to make a three tiered skirt. She tends to be accident prone, so I really didn't want her using my serger. I taught her how to do a French seam. It wasn't pretty but she gave it her best shot. Some of the sewing by the other children was absolutely amazing. I was rather surprised to see that Leelee placed second!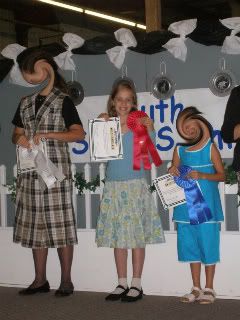 and here's Kari with her award for cupcakes :)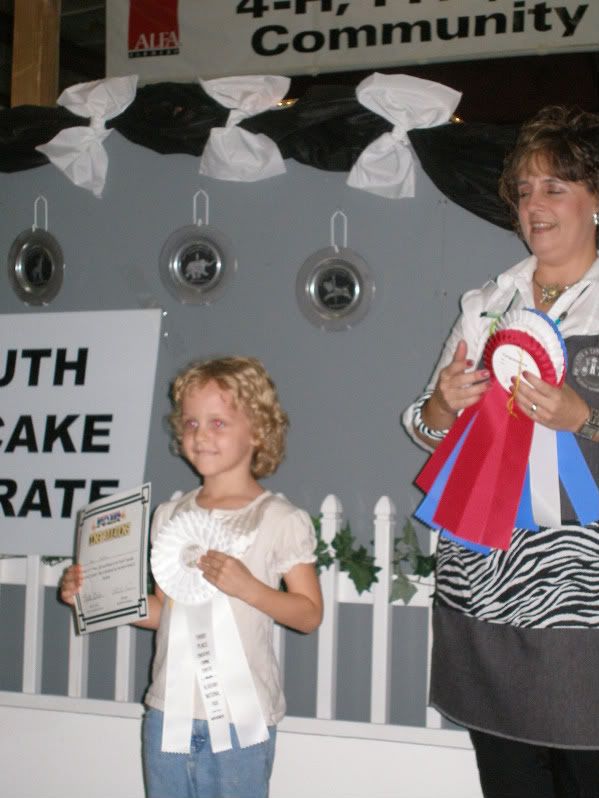 Tonight is Pie Day. This is one of the biggest events of the cooking contests. I pretty much stink at pies but I like to try this one each year because it's a challenge for me. Tonight I've decided to make an apple pie with a coconut macaroon top crust. One of my favorite flavor combination is probably going to be lost on the judges: I love apples with cheese.There's a chain of fast food places in Colorado that sells a tostada with apple pie filling, cheese and cinnamon red hots. It's delicious. But it's a bit scary sounding. I'm afraid the judges will probably not like that particular twist in a pie. I'm taking just as big of a risk with the coconut topped pie. Who knows how many times I may change my mind today!