I'm no Martha. That was painfully obvious on this month's Martha Stewart Cupcake challenge. We were to make the
turkey cupcakes.
We made them using
One Bowl Chocolate Cupcakes
. This is Leelee's favorite cupcake recipe so far. I also like it because it's easy.
Go ahead, take a look at what they were supposed to look like. Then quickly come back and see mine....
Try not to laugh.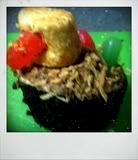 There is one big advantage of cupcakes this ugly...you have absolutely no remorse for eating them. In fact, by eating them, you are putting them out of their misery. Ugly cakes taste better than pretty cakes because there is no guilt involved. You don't feel like you are ruining some work of art.
Hopefully, we'll have better luck next month.