I couldn't resist heading back to Publix once I realized that there was a money maker on the yogurt. We don't love the yogurt, but when the store pays me to take it home, well...my love for it increases exponentially. The granola variety of this particular brand is much better than the regular.
All I really needed to pick up at the store was dishwasher soap. But that free yogurt...I decided to figure out a way to get out of the store without paying a single dime. Just because I could. And, I had already hit my grocery budget for the week and didn't really want to go over. So this scheme was completely justified.
My first stop was WinnDixie, however. WinnDixie had the coupon I needed to make the yogurt deal work. I had to work the deal in multiples of three and I was short some coupons. After scoring the necessary coupons from the dispenser, Leelee and I went across the street to Publix.
Our first stop was Welch's Sparkling Grape Juice. D wanted to know why I bought it since we aren't even going to be home for New Year's. It was free. That's my only reason. Thinking of saving it for Valentine's Day or something.
Then, the dishwasher soap. This probably should have been the first stop since I've forgotten to buy it the last few times I've been to the store. There hasn't really been a great sale on this since P&G stopped including the $1/1 Cascade in their monthly coupon insert.
Finally, 15 yogurt. Yup. 15. The kids inhaled them as soon as I got in the door, so I was only able to snag three of them for the photo.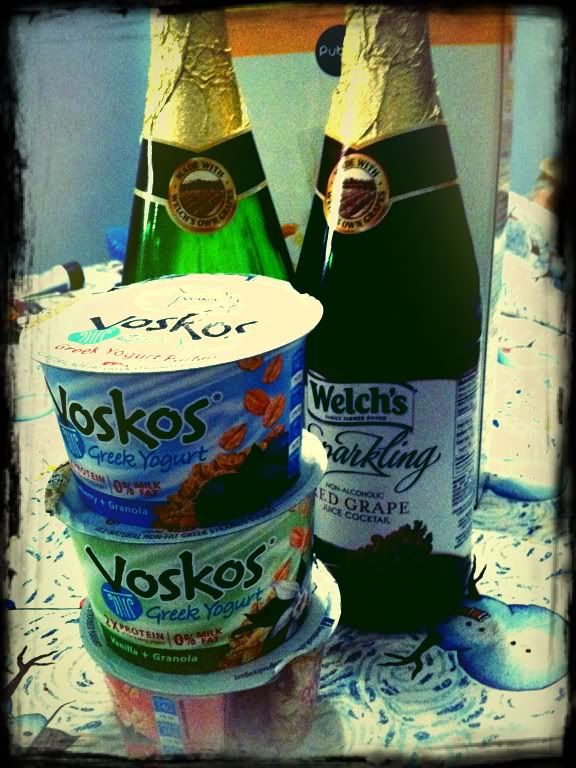 The coupons I used:
(15) .50/1 voskos
(5) $1/3 voskos from publix yellow advantage flyer
(1)
$1/2 Welch's Sparkling Grape Juice Printable
(1) $1/1 Welch's Sparkling Grape Juice from Publix All the Trimmings Flyer
(1) $5/$25 Save-a-lot competitor coupon
My total before coupons was $26.17. After coupons, including TAX, my total was....-$2.03! That's right folks, I handed over my coupons and that cashier handed ME back money. Sorry the picture is so bad. I was shaking with excitement! If I did the math correctly, it was a 117% savings if you don't include our pesky 10 percent sales tax!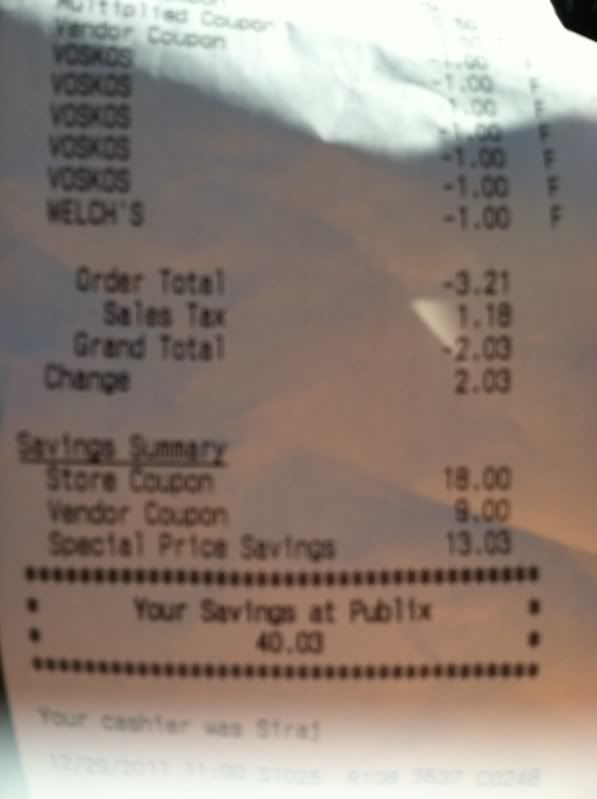 This was probably the very best I've ever done at the store! I've always come close to getting change back, but haven't actually accomplished it until this trip. I was so excited I called a friend and posted it on facebook. I'm such a dork sometimes :D