I knew it was going to be a big week at the grocery store with all the free yogurt, but I didn't think it was going to be an over the top week...until I saw the deals for cereal! For the first time ever, I had to grab a second shopping cart! It was about half filled by the time we checked out.
I was praying my total would be under $60 since it was double my usual amount of groceries. There was a lady who got in line behind me right after we finished ringing up, but before we started coupons. They opened another lane for her, knowing we'd be awhile. She ended up being finished before I was!
My receipt was literally as tall as me! We held it up to check ha ha So that would be a 5 ft 3 in receipt.
I ended up taking all of this home: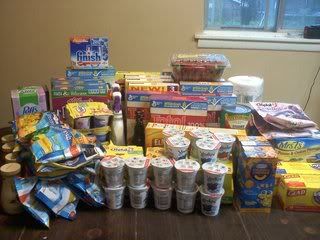 15 boxes of cereal
15 greek yogurts
12 frozen veggies
10 kids yogurts
4 pierogis
4 salad dressing
4 mac n cheese
4 tissues
2 spray cleaners
2 glad bags
2 yoplait smoothies
2 cans crushed tomatoes
1 worcestershire sauce
1 paper towel
1 dishwasher tabs
1 family size enchilada meal
2 lb clamshell strawberries
All of this for....$35.34 BEFORE tax (I had to pay another $10 in taxes). My total savings was $169.38! That's an 87 percent savings! Even the cashiers were impressed LOL My friend went in later that day to shop (we usually go together) and they were talking to her about my great day saving.