I am positively giddy with excitement. It's not too often I can get things down to free because I usually buy a lot of things in one trip and use the overages to bring down the cost of other items.
But today, I tried to see if Publix would give me change BACK if I had more coupons than total. WalMart has recently changed its policies to allow this. I know CVS won't. And, I found out my Publix won't either. Still, I'm pretty happy just to pay the sales tax! This was all FREE (48 cents sales tax)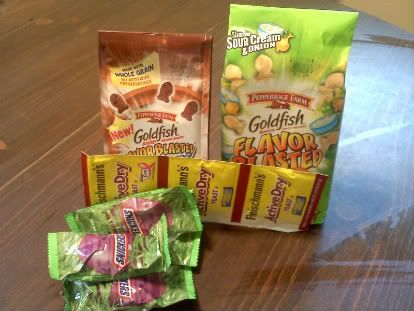 Earlier this week, I hit Publix and separated my purchases in to two transactions so I could take advantage of two $5 off $50 coupons I had. I ended up spending just $40 overall (before tax) for $200 worth of groceries!
My second transaction had more overage than my first, so I paid $15 for:
12 boxes of cereal
4 snickers eggs
1 gallon skim milk
2 half gallons lactose free milk
1 box finish dishwasher tabs
3 tangerines
1 schick intuition razor
2 oreos
4 cans ravioli
2 garnier curly hair styler
2 corn starch
I felt so happy about how I spent my grocery budget this week that I went to WalMart (gasp) and spent $2.16 (after coupon) on a jar of
nutella
. I'm hoping for a nutella sale before my coupons expire, but I just couldn't wait. Those who have tried nutella completely understand.