Each summer, I line my kids up at the beach, the lake, or the pool...wherever I can make it look the most interesting...and I take a picture.
It started out as me being "creative" and trying to learn how to take better pictures. The kids were old enough the first year that they didn't complain. In fact, D is the only one who seems to complain. The kids know what to expect. They line up. Sit up straight. No moving.
D, however, rolls his eyes. The kids are finally big enough, he's no longer required to be in the process other than an extra set of hands at the pool. Two years ago, he was holding up our two month old on a log. I photoshopped him out.
Fast forward a couple years. I really see that my babies are getting bigger. The boy is getting ready to grow tall. He always fills out just before he grows a foot. I think we may see another 6 inches of growth in him, since he hasn't gotten taller in the last 12 months. That will put him at just about 6 ft! yikes!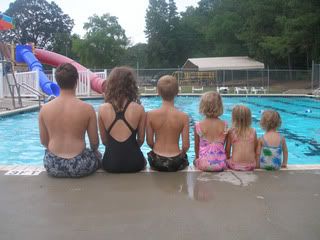 The pictures are lined up in matching frames on our living room wall. I'm not the greatest photographer, but I have gotten pretty good at getting rid of people from photos! In fact, there were 6 people IN the pool today I had to get rid of. I just hope one day, the kids appreciate these photos.