The worst thing for me is waiting. I hate it. I am an impatient person, which probably goes hand in hand with the ADD. I want things now because if I don't deal with it now, I get distracted.
Right now, the house is in hurry up and wait mode.
We are waiting on contractors to do HVAC and electrical. It has pretty much brought our work in the house to a standstill.
We can't paint because it's too humid. Today, we had 85 percent humidity. And we can't turn on a/c to bring down the humidity because the house doesn't have a/c. And fans? Well, that would mean having the electrical functioning properly.
Also on the waiting list? Glass replacement and repairing the gas lines to the house. Everyone tells us they will be done by the second week of August but no one has actually started working yet which leads us to believe we might actually be in the house sometime before the end of the Mayan calendar.
I'm still waffling on paint colors. While I love
the colors I posted
, I'm not entirely sure it's "me." The paint lady suggested a sophisticated color choice, but let's face it, I'm anything but sophisticated. I love whimsical, eclectic and somewhat tacky things. Heck, I'd love to own
Beyonce (not the singer, the giant metal chicken)
.
I love the color our kitchen used to be before I painted it blah beige because D picked out blue counter tops (one of those pick your battles kind of things. The whole house would be various shades of blue if I let him pick).
But I'm also starting to dig the orange that's currently in the kitchen: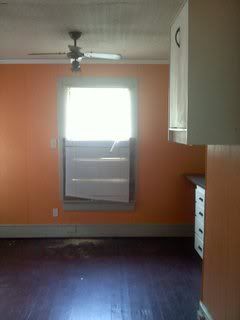 I think with the right backsplash, maybe drawing in some of the green, maybe some turquoise...like this color palette we're doing in Leelee's room, based off of this
spiffy little project
: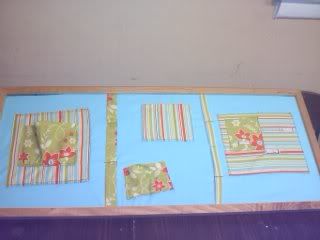 I'd love everyone's thoughts on this. The house is a blank canvas at this point.