I like bright cheerful colors. D claims the first time I got to paint a house I channeled my secret love of hamburgers. The walls were "ketchup red," "lettuce green" and "mustard yellow" with "hamburger brown" wood floors. I think D is color blind. They were definitely not those colors. Not even close!
Today, my sister and I hit the paint store. Sissie's husband just transferred to the town I live in. She might make an occasional appearance on the blog. Anywho, Sissie and I both like to paint. She also likes colors...just a different palette than me.
The first person to help us pick colors at the store was a man. He doesn't speak woman so when I said "fun, funky" he stared at me blankly. He put together a palette and I just didn't LURVE it. So I sought help from a woman who promptly told me my color choices were juvenile and it was her job to help me select a grown up "fun and funky" color scheme for the house.
And I am really happy with what she chose when I explained what I was looking for.
Here are the colors I'm leaning towards in the kitchen:
I'd love to hear opinions on this :) The red accents are in the appliances that I already own: microwave and blender.
And for the living room, I really wanted yellow. Apparently, people are afraid of yellow. Yellow makes me happy.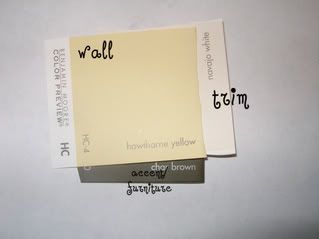 So yay or nay? I'd love to hear opinions :) Do you love color? Yellow? Green? Or are you a neutrals kind of person?