I love the show
If Walls Could Talk
. For so long I've dreamed of having one of those houses where you find hidden things in the walls, attic or crawl space.
On our first peek under the crawl space, DH emerged with a glass bowl! I was sooo excited to check out this dirty bowl. Surely, there was some great history sitting right in my hands. I ran straight to the kitchen and started to clean it off. And this was my first great treasure, it was even marked on the bottom:
Isn't it marvelous? It's totally vintage TARGET (
at least that's where I buy all my
anchor hocking bowls

)
from the late 1990s. I'm considering hiding it back under the house so that in another 100 years, it might actually be
worth something
interesting.
When the HVAC contractor told us that he was going to have to cut a large whole in the ceiling to get to the attic, I was pretty excited. Surely there would be something completely awesome hidden up there. The access for the attic was designed for someone very small in stature. A century ago, people were much smaller than we are today. So maybe, just maybe there would be a box or some newspapers...something that would make my walls talk.
That would be just too perfect, wouldn't it? Which means it wasn't meant to be. The contractor said he found some old newspapers, but as soon as he touched them, they crumbled in his hands. He wasn't even able to get a date off of them. I'm really disappointed because I wanted something to help us date the construction of the house beyond when it was hooked up to the city water.
There was one other small find in the attic. The contractor said in all the years he's been doing this he's never found something like this in an attic. At the front of our house in the attic is a vent. That's odd in itself because there was no fan up there. Not sure why there was a vent. But, lying next to the vent on the inside of the attic was this: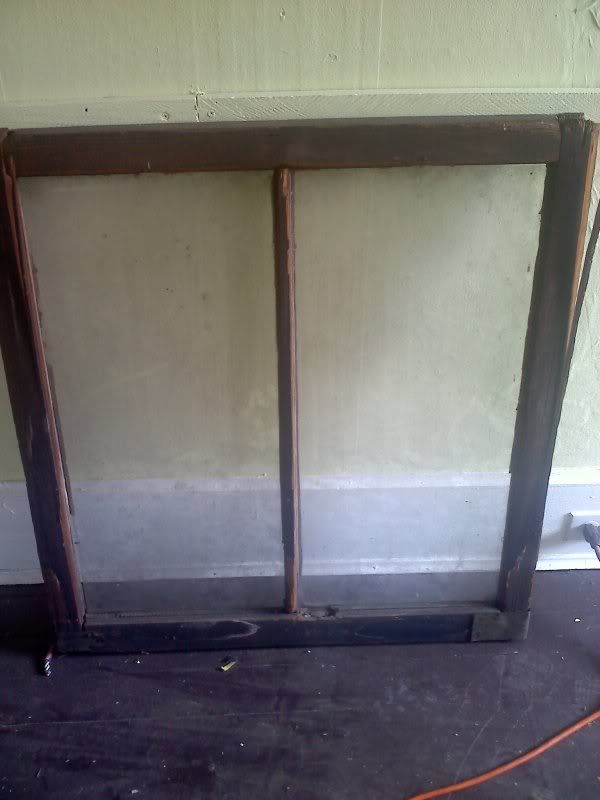 In case you're wondering, that would be the original window that went where the vent is now! Once they put in the vent, they couldn't get the window back out of the itty bitty attic access so they just left it behind!
This may be the only bit of hidden treasure I get to find in the house, but I'm happy with it! It has the original wavy glass still intact. The other side of the pane is a lovely distressed lead based white paint of the original house.
I've been digging through
pinterest
looking for ideas on what to do with this lovely vintage window. I'd also love to hear any suggestions you might have.