I can't help it, I have to show a little bit of what I've been up to with the house. I really didn't want to show any projects until completion, but this one project is done...but it's in the middle of the kitchen, and the kitchen is sooo not done yet.
The house has several random doors that don't go anywhere. The one in the kitchen used to lead outside to a small porch. The porch was enclosed eleventy billion years ago and converted into a laundry room. It's probably the most impractical laundry room ever, but it gets the job done. The door doesn't open in to the laundry room at all; it is more of a back wall.
On the kitchen side, I wanted a place to jot down notes. We used to have a small dry erase board, but it just never really worked. The kids always lost the pens and it wasn't ever big enough. After ignoring D's protests (he'll tell you I'm rather good at it) I decided a chalkboard painted directly on the wall (or a door in this case) would be best.
Of course, I was right...Apologies for the lousy lighting. My camera is ...somewhere in a box so all pictures are taken with the phone. This photo is actually a big spoiler because you can see hints of the old ORANGE paint along the edges of the chalkboard that hadn't hadn't been touched up yet and you can see the new kitchen color!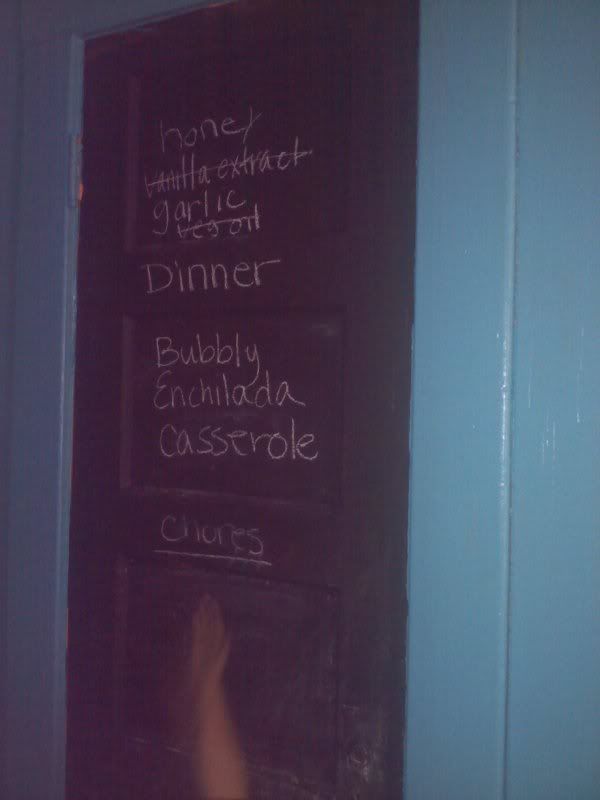 I think this picture is a bit better. Danger Girl is hamming it up as usual...
The little girls are having so much fun practicing their writing on the door that I am again ignoring D's protests and will be painting a chalkboard area in their room. I think it will go perfectly in the reading nook. I'm debating whether to do it directly on the wall or paint a piece of board for a movable chalkboard station. I'm open to opinions :)