I had another great week at publix, or at least my cat did!
About six months ago, there were some awesome sales on cat food and I really stocked up. I stocked up so much, that I haven't actually had to purchase cat food since. Miss Josie's food has all been FREE even the moist food she prefers. In fact, she's becoming one spoiled little kitty. My cat food supplies had started to dwindle so I had hopes the sales would cycle soon. Stocking up for six months worth of food really paid off because once again, FREE cat food! In fact, I even made money on the cat food this time.
Check out what I brought home for only the sales tax (my store won't give you overage to cover the sales tax. In fact, the coupons state that the consumer is responsible for all taxes).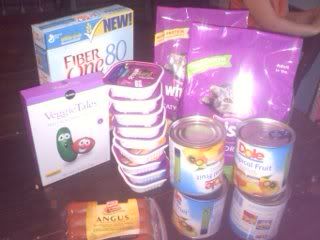 2 bags Whiskas
9 trays Whiskas
4 cans Dole tropical Fruit
1 box Fiber One cereal
1 box Fruit Snacks
1 package angus nitrate/nitrite free hot dogs