I haven't shared my grocery spoils in awhile. This week I had nearly 100 percent savings at publix! I got all of this for a mere 13 cents before tax!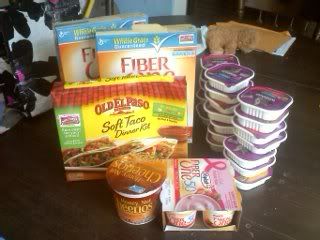 The store was practically giving cereal away. If they would have had the cereal I wanted in stock, I would have actually paid even less money. It's crazy to think I'd pay less by buying more. But it ended up to be an additional $2 in coupons taken off.
After tax, I only paid $1.46 for this trip.
My stockpile isn't back to what it was before the move. That's going to take some time. I don't have a pantry at all in this house and it's going to be some time before I get one. Until then, I just have to make my purchases carefully.