Pinterest has been my go-to place for recipes over the last few weeks. I've managed to find a few great recipes. This one, I tweaked a bit from the original to better suit our family needs and what I had in the pantry. The recipe as shared here serves 6, so I made 1.5 the recipe to make sure we had enough for lunches the next day. Unfortunately, it was such a hit, both pans were picked clean!
With sales and rebates, I managed to make this for my family of 8 for under $5! That's not too shabby.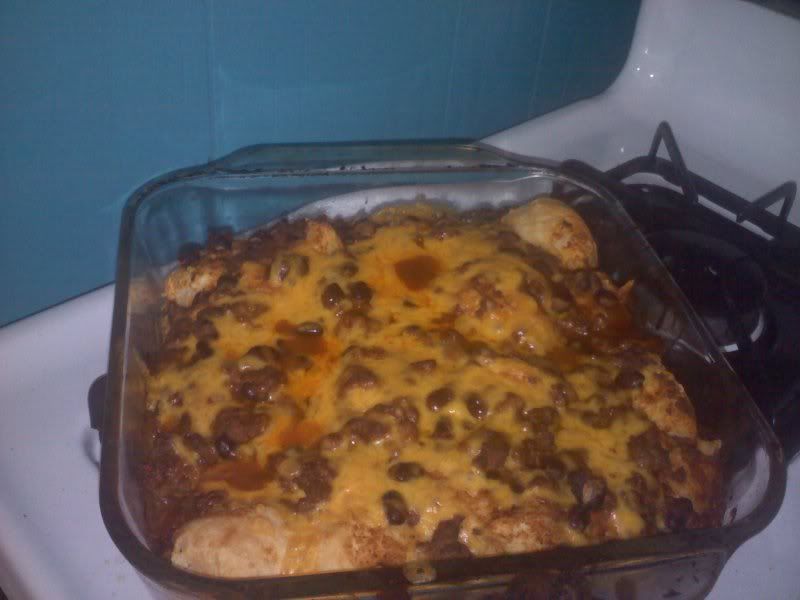 Bubbly Mexican Bake
1 lb ground beef or turkey
1 can black beans, drained
1 bottle taco sauce or enchilada sauce
1 8 ct grands biscuits, cut into quarters
1 C sharp cheddar cheese
Brown ground beef and drain. Add in drained black beans and taco sauce.
If the sauce is too thick or you need to stretch the recipe a bit, add in 1 small can tomato sauce and 1 T chili powder.
Arrange quartered biscuits in the bottom of a 9x13 pan. Pour meat mixture over biscuits. Bake in 350 degree oven for 25 minutes. Top with cheese. Bake an additional 10 minutes.