Yesterday was the kids' big day at the fair. We had lots of winners!
There were three pretty big wins.
First, Punky Brewster took first place in the under 6 year old home baking competition! Her recipe is super easy and something a 4 year old can definitely pull off with minimal help.
Pumpkin Muffins
1 box spice cake
15 oz can pumpkin puree
Mix cake and pumpkin puree together. Pour into prepared or lined muffin tins. Bake at 350 degrees for 25 minutes.
They stay moist for a very long time :) And they are only 2 WW points!
Punky Brewster also took home second place in the crazy creations (they give the kids a bag of miscellaneous containers and cardboard and other assorted junk and tell them to build) and she took first place in under 6 pumpkin decorating. She ended up winning $70 in prize money! She plans to combine that with her upcoming birthday money and buy herself a new swing set.
Danger Girl was another big winner, taking first place in the crazy creations for the older kids. There were quite a few big kids competing. We were not expecting her to even place. It was a complete surprise to hear her name called. She won $30 and has plans to buy a pogo stick. We'll see...
The big upset came later that night in the Spam Cookoff. This has been Leelee's domain. She loves to cook and has gotten quite the diva attitude about her cooking abilities. I told her if she kept up the attitude she probably wouldn't win at all. And, after the judging, she was left more than a little annoyed because The BOY took third place! It was his first win ever at the fair.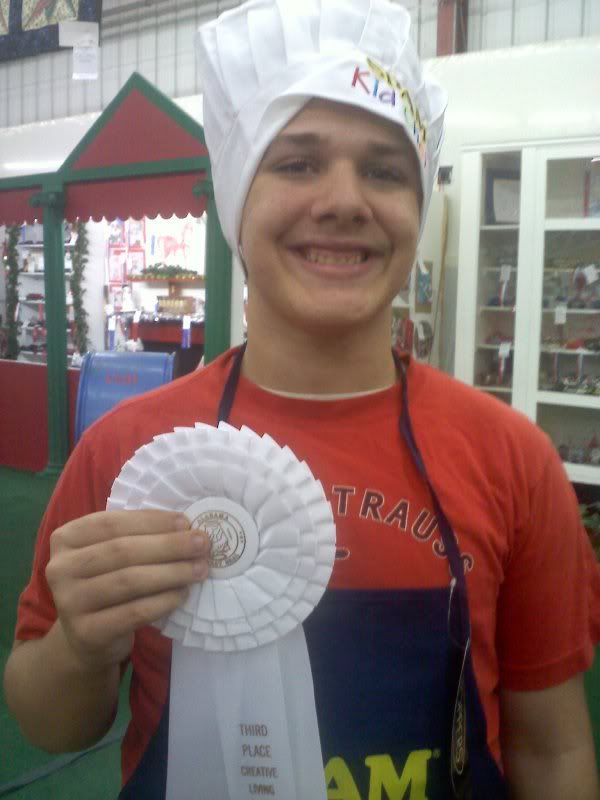 The Boy made a Hootenanny, which is basically an oven baked pancake, just add spam. I was pleasantly surprised at how well it turned out. He did it all himself, including the chopping. He gets really nervous around the kitchen. I don't think any of the judged realized he has
Aspergers Syndrome
. This was just one of those huge personal victories for him. He never gave up trying to win something at the fair. And it was another one of those moments when I see him with the other boys who won (one was close to his age and the other much younger), it opens my eyes to how not typical he is. I sometimes forget because he's our normal.
HOOTENANNY
1 C white flour
1 C milk
6 eggs
1/4 t salt
12 oz can Bacon SPAM, chopped
Blend up 1 c. white flour, 1 c. milk, 6 eggs, and 1/4 tsp. salt. Pour batter into greased 9x13 pan. Then, pour 1/2 cube melted butter over the top (do not mix). Bake for 25 minutes at 400 degrees. Cut in pieces, drizzle with Maple Syrup, serve.