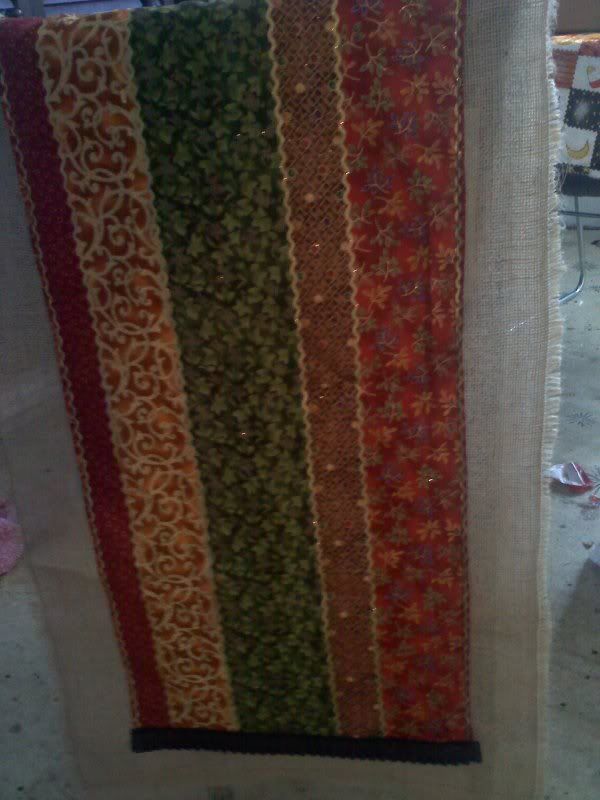 Just in time for the
Pinterest Challenge over at Young House Love
I made this lovely table runner for a swap. I have never actually made a table runner before. Heck, I didn't even OWN a table runner until this swap!
I think it turned out really nice. It would look a lot better but I took the picture before my new toy arrived (an iPhone 4!) Since the real camera broke, I'm just using the camera on my cell! Hopefully, I'll save up enough for a decent camera.
My inspiration for this project was a
ruffled burlap table runner
.
I made several changes. First off, I didn't like how the fabric looked ruffled up. It's such a visual pattern that it was just TOO much and looked sloppy. Instead, I just sewed it on straight.
Another change I made was adding a fringe. You can't see it in the picture, but there's a two inch fringe on the bottom! I saw it done on several projects while searching BURLAP on pinterest.
I also added a ruffly ribbon instead of a flat ribbon. I LOVE LOVE LOVE this ribbon and want to get more :)
So here are the details if YOU want to make a neat little table runner like this:
Measure the length of your table and add 16 inches to determine the amount of burlap you need.
60 inch table plus 16 inches is what I used. I ended up buying 2 1/8 yd
2 yards pretty fabric (16 inches by 2 yard cut)
1 yd ribbon
Sewing machine
DENIM or other heavy weight needle
Trim the burlap to approximately 19 inches wide.
Stitch down the long sides of the burlap to keep it from fraying.
finish the edge of the pretty fabric by doing a rolled hem or pressing under 1/4 inch and doing a narrow hem.
Place the fabric on the burlap and center. I marked mine approximately 2 1/2 inches from the stitched edge on the burlap on each side and about 6 inches in from the ends. Pin and stitch in place.
Measure out the ribbon to fit about an inch beyond the fabric. Fold under and place where you'd like against the ribbon. Stitch in place.
Next, determine how much fringe you'd like. I am a fringe kinda gal. I did about 2 inches. Pull from the side of the burlap, one string at a time to basically unravel the burlap.
There ya go! super easy and super cute :) i really hope my swap partner likes it!
Linked up at:
Tater tots & Jello
**