I finally made it to Publix for my big shop on Saturday. I had made a smaller trip earlier in the week but many of the items I wanted were out of stock. I also made a small trip to a different WinnDixie and that trip REALLY paid off.
I'll tell of the WinnDixie fun first.
There were several good coupon finds at WinnDixie. First, $1.50 off
sour cream
wyb 2 lipton soup mixes. Second, the wonderful buy 4 get 1 free Stove Top coupon. This will pair nicely with the $3 off butterball turkeys wyb four kraft products (stove top is included). Hopefully they will go on sale soon since Thanksgiving is quickly approaching. This Winn Dixie also had the Heroes coupon book that my regular store hadn't gotten in yet. There are some great coupons in there that are perfect for use at Publix.
My big scores purchase-wise came in the produce department. They had several items on markdown and I was able to grab:
15 lbs of potatoes
1 pineapple
3 lbs of apples
1 loaf bread
1 can corn
1 pkg gravy mix
My total was an amazing $10 before tax! All the produce had been marked down to just $1 a package. Who says you can't save money on produce?
Before my adventure at WinnDixie, I had to stop to see Christine from
My Bargain Quest
. She's my real life coupon buddy and she had a stack of coupons I needed. She always finds the best deals. Seriously check out her blog and be in awe.
My savings total at Publix this week was 89 percent! And now my freezer is totally stocked. That's a real bummer since I need to get those OreIda potatoes!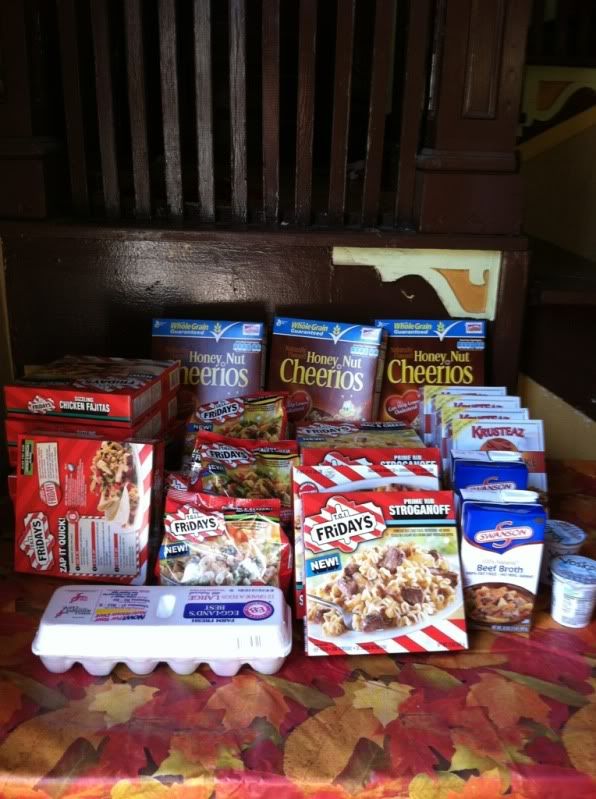 I ended up getting:
3 boxes Honey Nut Cheerios
4 boxes Krusteaz Coffee Cake
2 Voskos yogurts
2 swanson beef broth
1 eggland's best eggs
20 (!) TGI Friday's meals
The total savings on my receipt was nearly $97! I love it when it gets up that high and I can still pay for my groceries with a $20 and get change back.