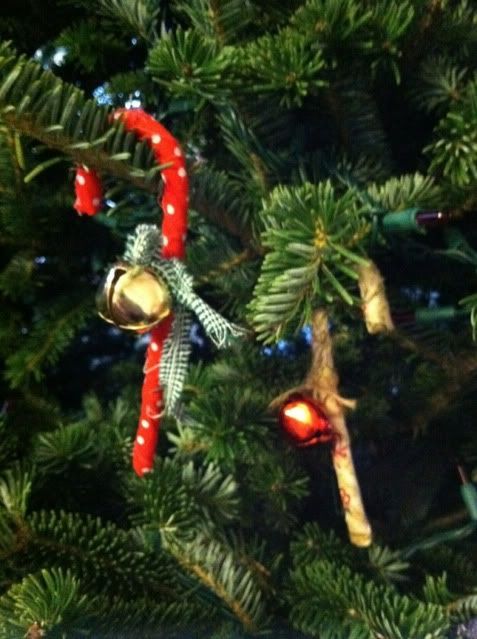 I love the look of Candy Canes on the Christmas tree, but I don't love the kids getting in to them and getting sticky all over my house. I also don't love the look of the fake plastic ones from the dollar store.
A solution was found on pinterest
and I added my own little twist...or rather jingle to make it just
that
much cuter.
This is one of those awesome projects that anyone with a proficiency with a glue gun can handle.
The materials:
plastic candy canes
scraps of fabric
hot glue gun
jingle bells
Tear strips of fabric about an inch to two inches wide. Hot glue the bottom of the plastic candy cane and stick it to the fabric about a half inch from the edge. The proceed to wrap the fabric around the candy cane and hot glue the end down when you've got it all wrapped.
Snip a small edge of coordinating fabric, maybe 1/4 inch wide. Rip the fabric, leaving you with a small bit of "ribbon." String the ribbon through the jingle bell, then tie to the fabric covered candy cane.