This is the first year we've had two full sized trees. In the reception hall (seriously, that's what the room is called on the floor plans), we have a 7 1/2 foot artificial tree. I'm not a fan of fake trees, but it was from freecycle so I can't complain too much. In the living room, we have our 9 1/2 ft
Fraser fir.
In the dining room, we also have the small rosemary kitchen tree our neighbor made.
In the past we've always had
Douglas Fir
trees. They were the most common trees to have when we lived in Oregon because they were native to the area. We'd pay a pretty penny in this part of the country to have one. Fraser Firs are more common in this part of the country and Costco had a great deal, and I had a gift card...so the tree came home with me. I have to say I'm a HUGE fan. And that's not just because this is the first year we all haven't gotten seriously stuff noses the minute the Christmas tree entered the house. Who knew we were all allergic to Douglas Firs?
The smaller tree is for the kids. On it go all the ornaments they can't break. The girls have redecorated the tree MANY times already. The bonus being they leave the big tree alone.
Our neighbor has a lot of time on her hands. A lot of time. When she gets bored, I end up with really neat things for my house. Even better, we both seem to have a love for all things kitschy, and crafts that are just
this
close to being a bit creepy, in a cool vintage-y sort of way.
Like this Santa from a dried gourd:
For the kids' tree, two of these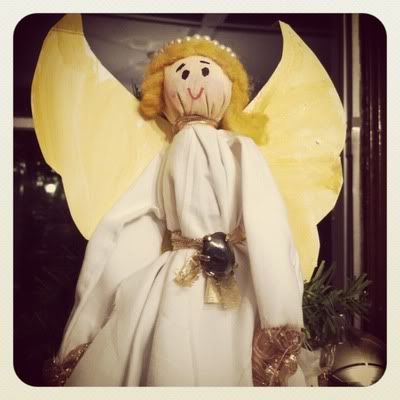 And a set of six of these vintage mini mugs. Santa is totally creepy looking, which is just how I like him.