As mentioned in another post earlier this week, our family goes through a lot of cereal. When I find a good sale, I stock up! This week thanks to store coupons, sales, etc. I was able to get nine boxes of cereal for less than a dollar a box! Plus, there were freebies associated with buying the cereal, so it was all around a good week for breakfast foods.
This week, my out of pocket expense at Publix before tax was just $20.35. That broke down to "only" 80 percent savings. I could have done my transactions in such a way to make the savings appear bigger, but that would have involved multiple trips to the store...and I wouldn't have saved any money in the gas tank.
In the picture you also get a sneak peek at a couple projects I'm working on. The wall is going to be amazing...eventually.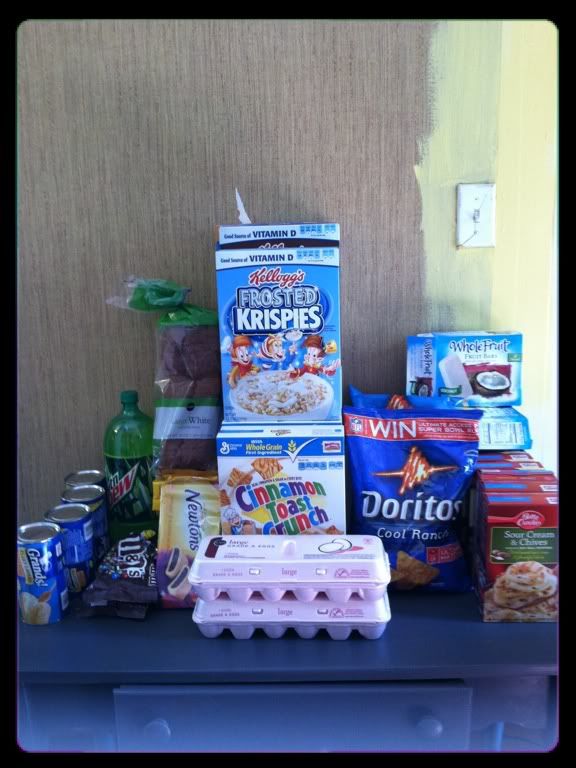 Ok here's the breakdown of what I bought today
1 Mt. Dew
1 loaf bread
4 grands biscuits (.30/2 x 2)
4 Fig Newtons ($1/2 x 2)
4 Rice Krispies ($1/2 2)
2 12.6 oz bags M&Ms (FREE M&Ms WYB 2 Rice crispies peelie x 2)
5 Cinnamon Toast Crunch (.50/1 + $2/1 Any GM cereal Publix store coupon)
2 dz eggs (FREE eggs WYB 2 grands biscuits x 2)
2 doritos ($1/2 tearpad)
2 whole fruit bars (.50/1 X2)
8 Betty Crocker potatoes (.50/2 peelie)
$5/25 Save-A-Lot store coupon
$5/30 Winn Dixie store coupon
My total before sales and taxes was approximately $100! After coupons and before tax, it was $20.35.
Many of the coupons I used this time were found on tearpads at Walmart. Walmart has been getting a lot of great coupons lately on tearpads that I don't see in other stores.
Another bonus this week is two of the boxes of Rice Krispies had coupons for other breakfast foods in the package, plus another peelie for free M&Ms!