Cake pops seem to be all the rage lately. Leelee received one from her aunt for her birthday. And, she's had quite a bit of fun playing with it.
Leelee has come up with some great ideas I'm anxious to try. She's trying to work out a way to make pretzel bites! Doesn't that sound good? I'm more anxious for her to make the cheesey bread bites she's been promising. We have to do something to use up all the pizza yeast I got for free when I did the
big shopping trip for our TV news
.
This particular recipe is a spin off of an old snack-tastic favorite...the corndog muffin. I know I blogged about it at some point, but I can't find the link. It's pretty basic: cornbread muffins with hot dogs cut up inside. For the corndog cake pops, it's the same idea, except the hot dogs are cut smaller.
The recipe hit the EASY train when I picked up the Krusteaz One Step muffin mix on a crazy good sale. You just add water and shake. One cut up hot dog was added to the mix and shake it more.
Drop into the cake pop machine by the spoonful making sure each has some hot dog goodness. Bake for 5-6 minutes.
This should yield about 18 corndog pops.
You can do this with any corn muffin recipe. I prefer to use the boxes or the one step for this because I don't like standing all afternoon making only a handful of these things at a time. :P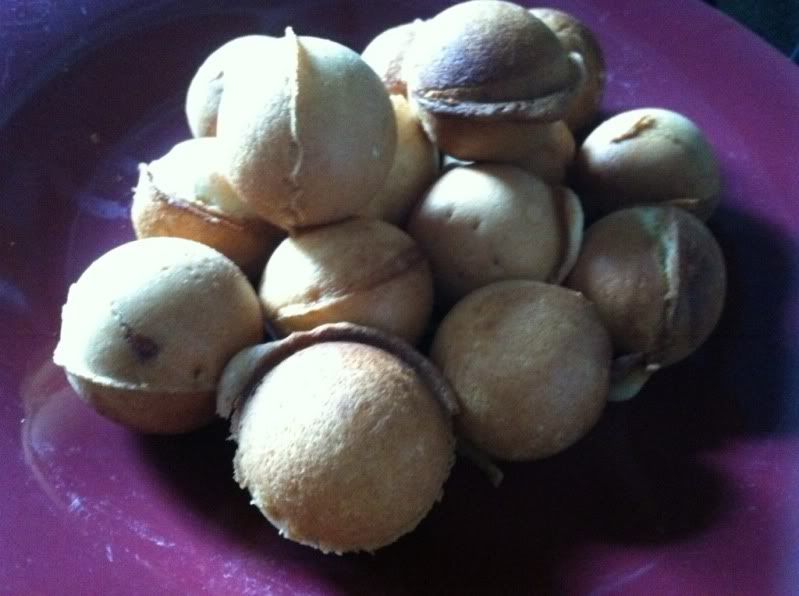 The kids ate one batch and I froze another for a nice afternoon snack. It's just enough to get me over that corndog craving that usually has me fantasizing about going to Sonic. Now, I just have to master the cherry limeade and we'll be all set.
If you want some more great ideas for your cakepop maker, check out
Moscatomom
!
linked up at:
House of hepworths
**