I didn't do much shopping this week. Just didn't have the right coupons. Not every week can be a big winner. I think I still ended up with about 80 percent savings. Not too bad.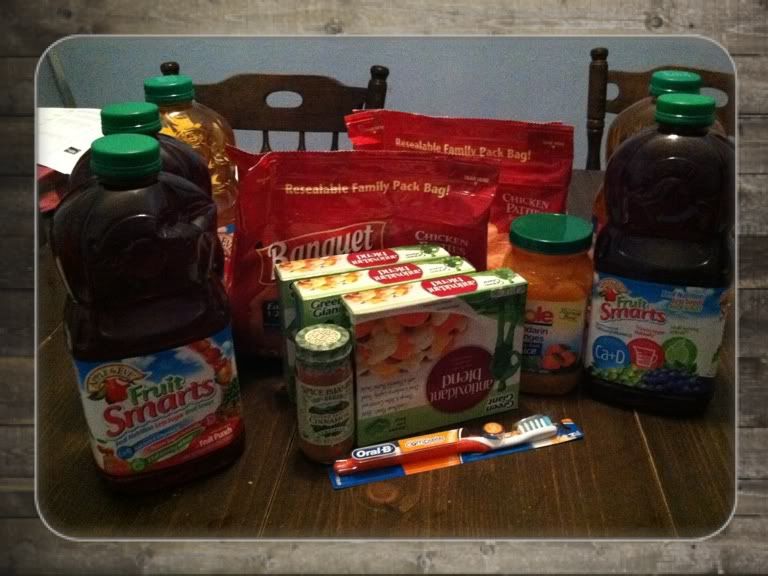 My total was $10 plus tax after coupons.
(5) Apple & Eve juices (.75/1 blinkie)
(2) Dole Mandarin oranges (.50/1 printable)
(2) banquet chicken
(3) Green Giant frozen Veggie ($1/3)
Saigon Cinnamon ($2/1 YAB flyer)
Tooth Brush (.75/1 + $1/1 Publix Special Olympics coupon)
$5/25 Save A Lot competitor coupon
If I had done the Con Agra rebate from the fall, my total would have been even less! The rebate included a coupon for $5/2 banquet chickens. These were on sale for BOGO this week, so would have been FREE if I had the right coupons.
On this trip, I also had my first encounter at this Publix with a clerk who didn't understand the coupon policy. She told me that my $5/25 coupon was for my total
AFTER
coupons. But, ya know, she was going to be nice and let me do it
this time
. Of course I told her I'd been couponing at that store for a very long time and I'd never been told it was the post coupon total. Heck, Winn Dixie doesn't even make you use their $5/55 as a post coupon total.
Just to be safe, I stopped at customer service to ask. If there was this big of a change in the coupon policy, I wanted to know about it because it was definitely going to impact my shopping strategy!
As expected, there was no change. Just a clerk who misunderstood when she was told to ring up the competitor coupon at the end of the transaction. Crisis averted.