Leelee's fireplace needs a facelift. Yes, her bedroom has a fireplace in it. At one point it was probably functional. It hasn't been in a very long time. Someone, in the mid 80s did some sponge painting. That's the last bit of updating it's had. Definitely not something a teen girl wants.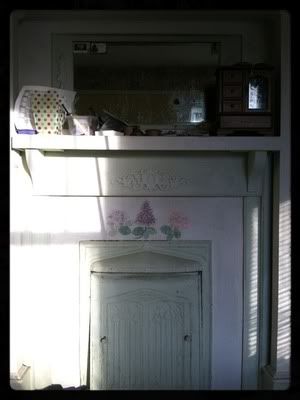 The walls in her room are a warm yellow/deep cream. It's called Banana Cream Pie. Her bedding is dark brown. And the accents are teal, green and orange.
Now, I need some help with the colors. She's selected this color for the mantle.
That's araucana teal from Martha Stewart.
And then for the surround:
So now I need to figure out what to do with the insert. Stripping the paint is not something I really want to tackle. Do I leave it that pale minty green? Paint it another color from her room? Maybe oil rub bronze it?
Then there's the floor in front of the fireplace. It's wood. It was painted and then had a crackle effect added to it. I have an idea on what I want to do...but it's a lot of work.
Advice? Color suggestions? I'm doing this solely with paint because it's an upstairs fireplace. I don't to do any tiling or fancy stuff!