When my step sister moved in to the rental house, she was short a dresser and I offered to let her use Punky Brewster's old changing table/dresser.
Then, they moved and left many things behind and this is what the dresser looked like when I picked it up from the empty house. Well, this is what it looked like AFTER I started priming it! And yes, that's spray paint.
I picked my stomach up off the floor and set to work. I'd need a lot of primer for this. Spray paint doesn't prime over easily. I used two coats of primer and
still
had some bleed through! If you are thinking of painting something wood, please don't use spray paint. If you change your mind later, you'll have a lot more work cut out for you!
Around the DIY blogland,
Annie Sloan Chalk Paint
is all the rage. Or well, it's all the rage on the projects I love. Like this one for a
revamped Table and Chairs
and homemade chalk paint recipe I found on pinterest! The Annie Sloan paint is pricey and not available in my area, so it was definitely a DIY to the rescue moment.
Here's the recipe:
1/2 C Plaster of Paris
1/2 C Hot Water
1 1/2 C paint
Mix together the plaster of paris and hot water, then add in your paint! Voila!
After painting you do need to add a light coat of wax then lightly sand.
For this project I used Sherwin Williams
Exuberant Pink
and
Peppercorn
. Peppercorn is totally my new favorite paint color. It's being used all over my house!
And then we have the final product!
Please excuse the missing knob. I can't get the old screw OUT so the new knob can't go on yet.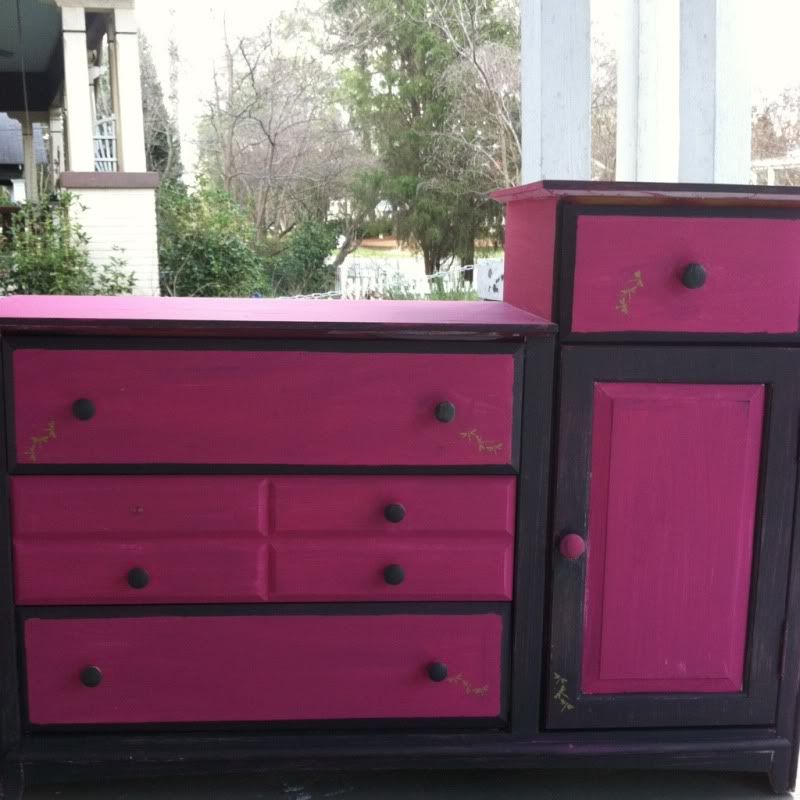 I also added these cute little dragonfly stencils for an extra hint of color for Punky Brewster. She wanted a bit more girly. I loved how it was more rock n roll than pink fluffy princess. Naturally Danger Girl said she's totally cool with me redoing her dresser in the colors as long as I keep it rock n roll.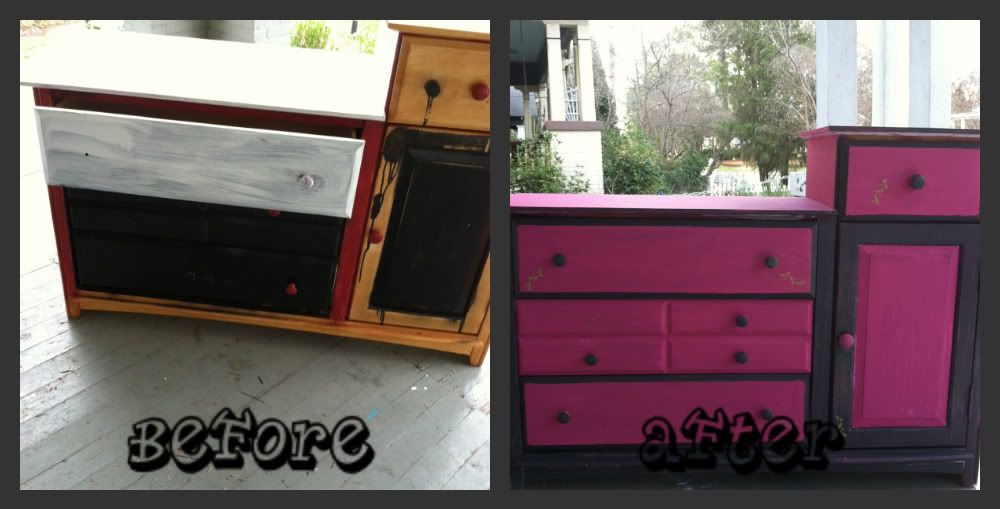 linked up at:
simply Creations
**
Furniture Friday
**
Home sweet Home
**
redoux
**
Days of Chalk and Chocolate
**