This week was pretty good at Winn Dixie for me.
I got the meal deal and spent an additional $16, so I could use a $5/$30 coupon. For some reason, the picture on my phone disappeared, so I'll just share what I picked up:
2 bags chicken nuggets
1 Alexia fries ( FREE plus $1/1)
1 Mrs. Smith Pie FREE
1 Chex Soda FREE
1 Bag Steam Fresh Broccoli ( FREE plus.50/1)
2 right guard extreme deodorants ($2/2)
2 Kraft Homestyle Mac n Cheese (.75/1 X2)
2 Velveeta Skillet Meals (.50/1 X2)
I think I picked up a few other things. The total was just at $30 before tax. After coupons and sales and before tax, my total was just $13.50! The meal deal was for $13.98! So that means everything except the chicken nuggets were basically free. I also received a catalina coupon for $1 off my next purchase for buying the deodorant.
My trip to publix wasn't stellar savings, but I did finish up my 6 month stockpile of pasta sauce.
A second trip to Winn Dixie also brought home some bacon wrapped sirloin for $1.99! Love the meat markdowns when they pair with a sale.
I also saved big by shopping at my local farmer's market for produce. We are very lucky to have a year round farmer's market!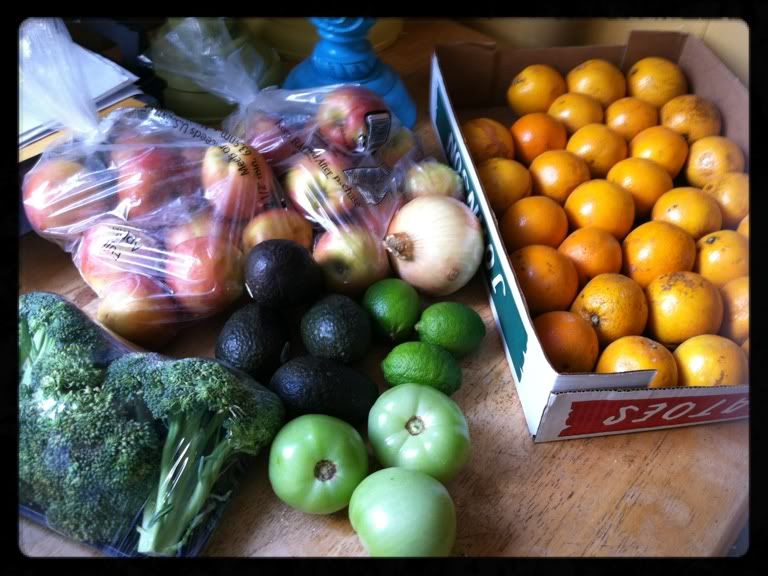 3 heads of broccoli
3 green tomatoes (yum!)
3 limes
1 onion
4 avocado
7 lbs of oranges
6 lbs of apples
All of this for just $15!
I've started canning already this year and plan to make marmalade this weekend. We are also looking forward to some fried green tomatoes. We're definitely going to be eating well :)