I'm running out of creative post titles. My brain is still a bit fried from all the renovations we've been doing.
Plus, our huge news this week is we rented our other property! Craigslist really came through. We had so many people that expressed interest in the property, with money ready that I was pretty astounded. I hated having to tell people who loved it that someone else took care of paperwork first.
Totally loving not having to make two house payments.
I was so elated I splurged at the store this week. I made two trips and one of them, I only saved 60 percent. In my defense, I bought many items without coupons because no coupons are available for them, pretty much ever.
My other trip was far more successful, with my normal 75 percent savings. It's real, honest couponing.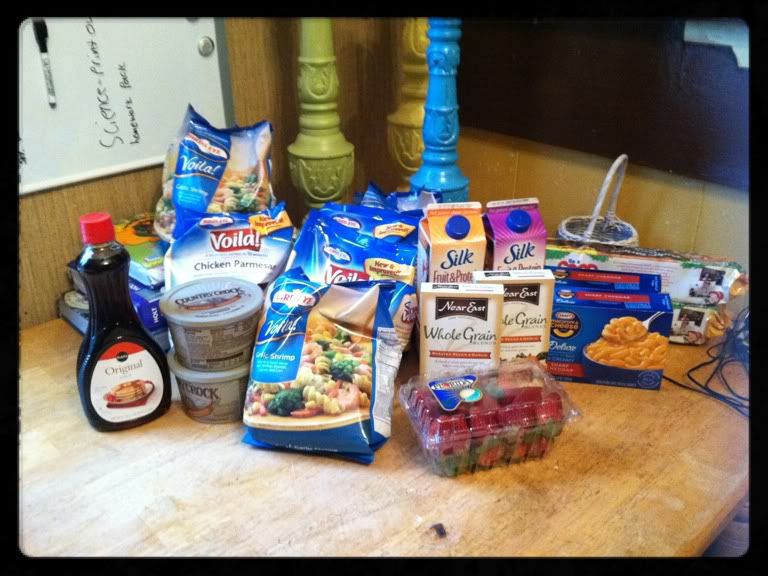 For $18 I picked up:
6 voila meals
1 bottle syrup
2 dark chocolate cookies
1 lb strawberries
2 county crock
2 Near East side dishes
2 mac n cheese (the fancy kind)
2 silk protein smoothies
The sad part is, all those voila meals...it's only 2 meals for us! But, with the coupons, my cost for the meals ended up being about $5 for three of them. That is a great price for feeding a family of 8! It's still well less than $1 a serving. I'll pair them up with some 50 cent salad and $1 biscuits. Maybe even have some free brownies for dessert :D