Like
most
all of my readers, we didn't win the mega millions drawing. Of course, in order to win, you need to play. We don't have a lottery in our state, and I didn't particularly feel like driving across state lines to buy a ticket.
But that doesn't mean we can't win
something
this week, right?
The church had a chili cookoff last night. I always love entering a cooking contest. Leelee also has a love of entering. Heck, she loves any excuse to cook or bake.
I decided to make my special chili where I add cocoa powder and a bit of cinnamon. It gives it a great flavor.
Leelee had never made a chili before so I found an easy peasy recipe for her. I can't remember exactly how I found the
recipe at Grateful Belly
. I'm sure it was through a link party. I left the house and told her to have at it.
When I got home, she said the recipe was easy but it was a bit bland so she added a LOT more chili powder. I'm not sure how much she added, maybe an extra two tablespoons. She also added a smidge of cumin. The chili wasn't hot at first...then it came at the end and went GOTCHA to your tongue.
Apparently, the judges appreciated the spice at the end.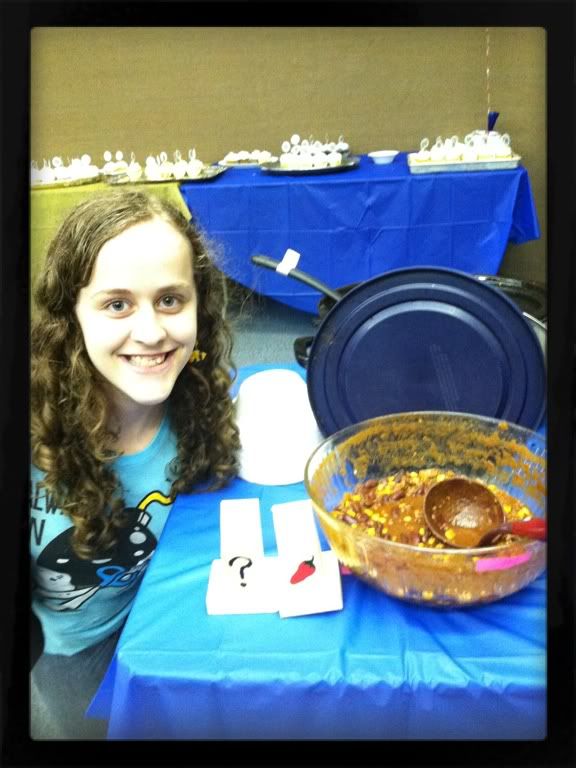 I guess I just have to accept that my teenaged daughter is a better cook than I am.
Leelee's Award Winning Chili
Ingredients:
1 lbs. ground beef
1 cup water
16 oz. tomato sauce
1 tsp. salt
4 Tbsp. apple cider vinegar
4 Tbsp. chili powder
1/2 large onion, diced
1 tsp. garlic salt
1 T cumin
1 can of corn, drained
2 cans kidney beans
shredded cheddar (optional)


Instructions:
In a large pot, brown and drain ground beef.
Add water and tomato sauce, then add everything else.
Heat through, and serve.
Serve with cheddar on top. Maybe even some sour cream if the heat gets to be too much.
Linked up at: