It's no secret I love homemade pizza. And, I love caramelized onions. They turn so sweet when cooked slowly in butter over a low heat. All the bitterness melts away. The kids eat the cooked onions like candy. Whenever a recipe calls for onions, I have to cook double because I know little ones will be begging for "samples."
So, it made complete sense to combine the two, making one tasty pizza.
Punky Brewster is very excited about our herb garden, so she also suggested adding sweet basil...which was pure genius.
Where pure genius is lacking, is what to do with this particular project. It's gathering dust in my living room and preventing me from finishing up several other projects. I do have some plans for, this little UFO (UnFinished Object) of mine...tune in tomorrow for some details on that one! It's going to be AWESOME.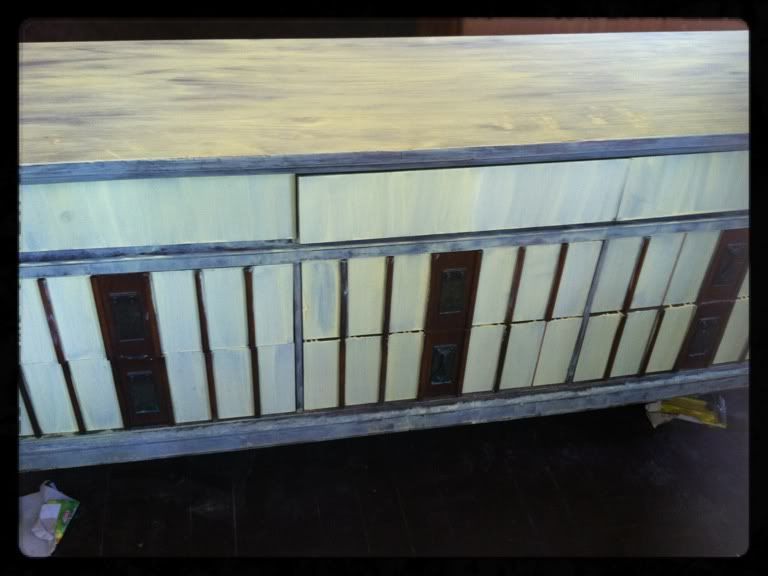 Right now it's perched behind my couch. It needs to be finished and moved UNDER the TV. Then, the dresser that's UNDER the TV, needs to move UPSTAIRS. There it will be filled with the contents of my linen closet. The soon to be emptied linen closet will take the contents of our closet under the stairs. The closet under the stairs will remain empty because it's our only "safe spot" in case of tornado.
If you think about it, this one dresser is pretty much a danger to my family :P I better get it taken care of ASAP!
Meanwhile, I'm sure you'd rather be getting the pizza recipe :)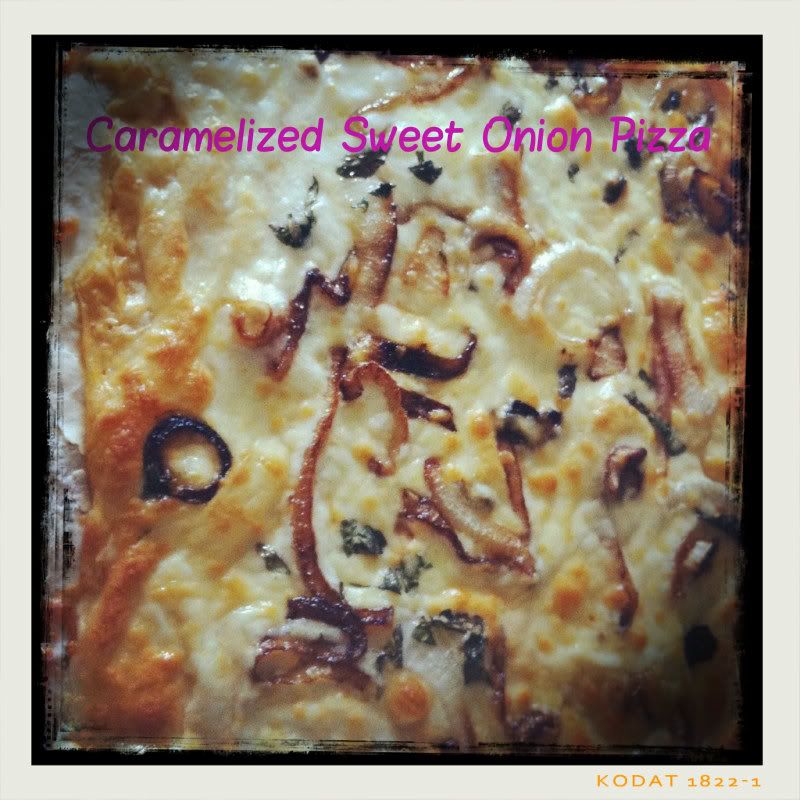 Caramelized Sweet Onion Pizza
1 pizza crust (store bought, homemade, your choice!)
1 large sweet onion, thinly sliced
1/2 C Four Cheese Rosa sauce, I use
Bertolli
1 1/2 C mozzarella cheese, divided (this is purely based on taste, feel free to add more cheese!)
3 T butter
preheat oven to 425.
In a sautee pan, melt butter over low heat, careful not to burn. Add onions and let them cook until starting to turn brown. This could take up to 10 minutes. Stir occasionally, to make sure the onions don't stick to the pan. If they start to stick, add a small bit of water to deglaze.
On your pizza crust, spread out the sauce, then top with 1 C cheese.
Spread onions on to the cheese, then top with remaining 1/2 C cheese. Sprinkle with basil.
Bake in oven for 15 minutes until cheese is golden and bubbly.
LINKED UP AT:
Debbie-Doo's Newbie Party
Funky PolkaDot Giraffe
Vintage WannaBe: Talent Tuesday
Grateful Belly's What's New Wednesday
Handy Man, Crafty Woman
Mom Time Out
Jillify It
52 Mantles
Vintage FarmHouse
Michelle's Tasty Creations
House of Hepworths
Delightful Order
Fireflies & Jellybeans
Mrs. Hines Class
Treasure Hunt Thursdays\
Tater Tots & Jello
Cowgirl Up