Not much of sale items we needed this week. I picked up a few snack foods and replenished the cereal stash. I wish the sales were better, but we're pretty stocked right now.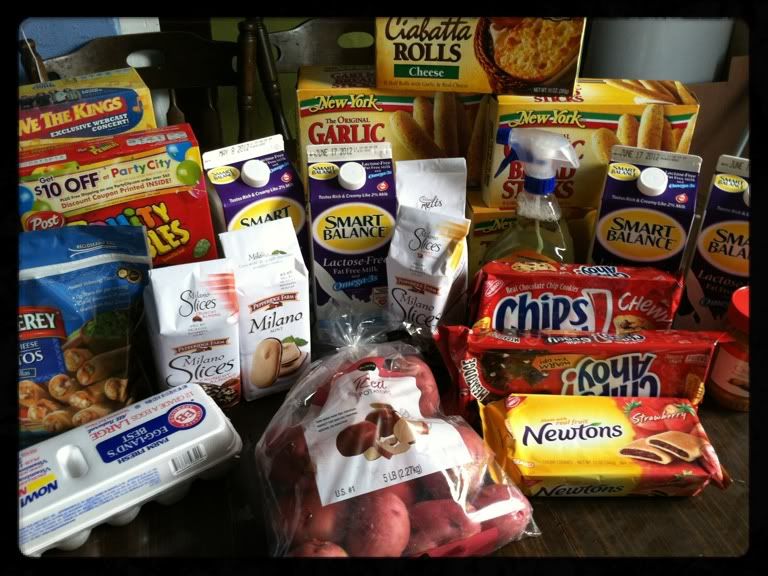 I spent $15 before taxes and brought home:
2 boxes cereal
1 bag taquitos (lunch for the day)
1 dozen eggs
1 fig newton
2 chips ahoy
5 lb bag potatoes
cleaner
6 frozen garlic breads (total indulgence. I love these things and I know they aren't good for me!)
1 peanut butter
4 pepperidge farm cookies
4 smart balance lactose free milk
I did take a trip to Winn Dixie where I had terrible savings :P Well, not terrible terrible but nothing like the 82 percent savings I had at publix.
My Winn Dixie trip, I spent $24, but $14 of that was on 2 lbs of New York strip steaks they were cutting to order in the butcher department. Our anniversary is coming up and I figured $6.99/lb wasn't a terrible price to pay for a good steak. And 2 lbs of meat is enough for 2 meals. An anniversary dinner for under $10? yeah...totally in my budget :)
The problem this year for our anniversary is it falls on Mother's Day. That means I either have to cook for Mother's Day or celebrate the anniversary early. I'm opting for early. Who knows what the kids will make for my dinner, but I just hope Leelee comes up with something delicious. Last year, she made a quiche and a cheaters creme brulee.