Have you found that UFO you want to finish this weekend? Don't forget to join up at the First Ever UFO Challenge!
The little girls are being really naughty lately. To me, that's a sure sign of boredom.
So I decided to try some baking with them today. Nothing like some fun in the kitchen to get them working together and
not having fits
having fun.
I started with this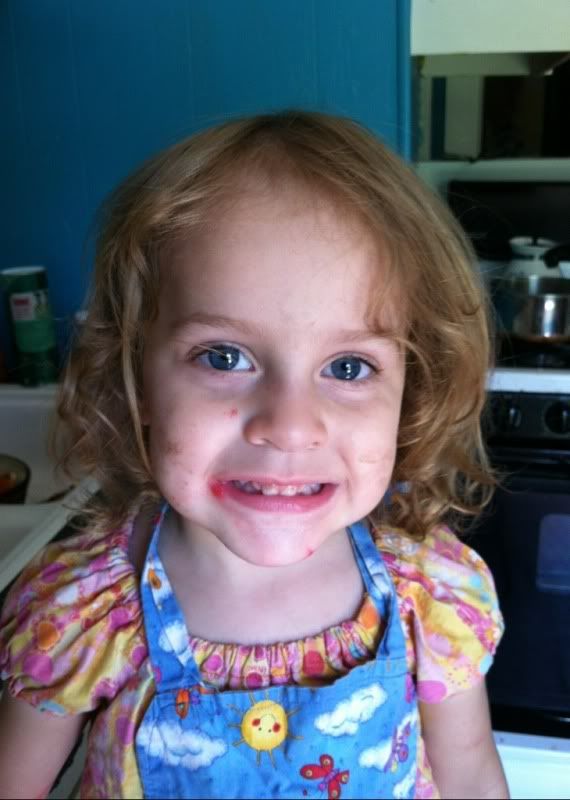 Smile but not too much smile
She was relatively cooperative. Aside from sticking her fingers in
everything
. Good thing these will only be eaten by family.
And this:


NO!
Sadly, even after our "fun" in the kitchen, Punky Brewster is still acting desperately in need of a nap. Or a time out. I think I might take the time out.
The recipe we started with today comes from a church cookbook. I'm not going to call it old because I have recipes in it. It's just well used. At least these two pages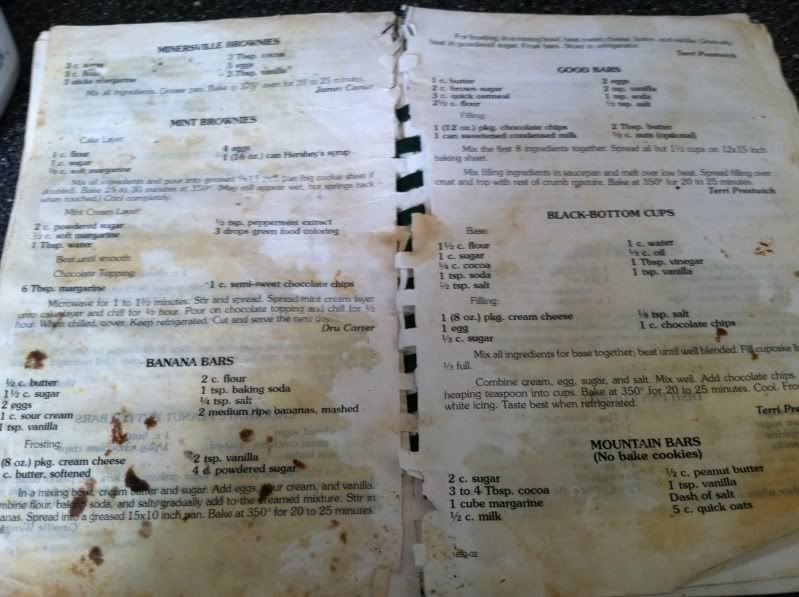 These start out like most No Bake Cookies:
milk, sugar, cocoa powder, butter


Once it bubbles up, I change the recipe just enough that neither my mom nor my mother in law would ever consider eating them. I add
coconut
. Yet, we still call them Grandma Pat's Mountain Bars. One day, maybe they'll consider them mine and not grandma's. Then, the usual rolled oats. And, drop them on to waxed paper to cool.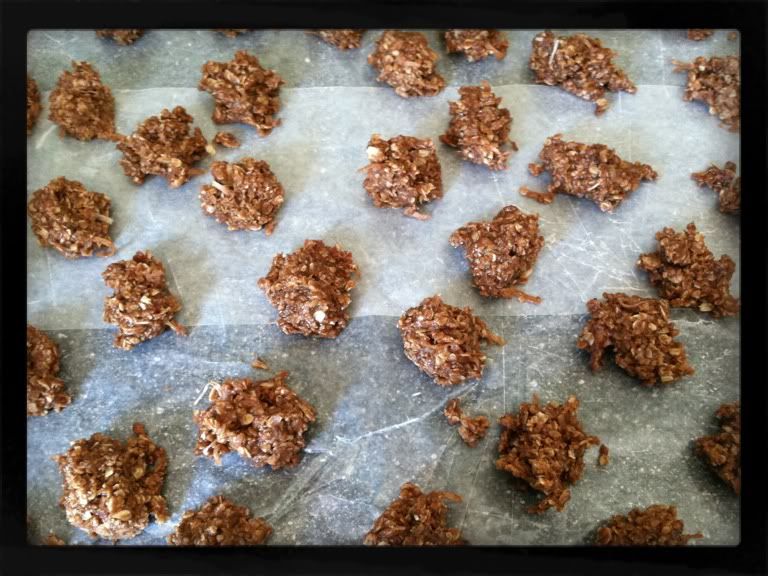 The funny thing about these cookies is most people make them in the summer when the cookie cravings hit and it's too hot to heat up the house. We don't make them in the summer at all! It's TOO HOT! The cookies just turn into a sticky mess. These are definitely spring time and fall cookies. You know, when it's only in the mid 80s.
Grandma Pat's Mountain Bars
2 C sugar
3-4 T cocoa powder
1/2 C milk
1/2 C margarine
1/2 C Peanut Butter
1/2 t vanilla
dash salt
1 C shredded coconut
4 C rolled oats
In a medium sauce pan, heat sugar, cocoa powder, milk and margarine to a boil. Let boil 2-3 minutes. Stir in Peanut Butter, vanilla and dash of salt. Add in Coconut. Turn off heat and quickly add in rolled oats.
Let cool in the pan for a few minutes. Spread waxed paper on counter and drop cookies by the tablespoon-full on to paper. Cool completely.