Our civic association held it's annual yard sale today. I was optimistic I'd be able to sell off some of the junk we've managed to accumulate since we moved in last summer.
We had a bit of good news/bad news on that front.
The good news was I sold some stuff. The bad news? My girls went to my neighbor,
the amazing Miss Kat,
and well...I ended with more stuff than I sold. I have a whole post planned later for the other
things older than dirt that a 3 yo and 5 yo shouldn't be playing with
goodies the girls snagged from her porch.
One of the items on my to sell list that didn't sell, was an extra fire place mantle. Because, you know, everyone just has one of those lying around. Along with the original bathroom sink to the house (didn't sell) and the cast iron fire place insert (didn't sell). And neither did my
cocomotion
. What is wrong with people?
Anyway, I propped the mantle up against the front of the house. Then the girls brought over some little rustic folk art furniture. And an antique mini watering can. Then, Miss Kat brought over this plant in a planter (along with two varieties of mint, tarragon and lemon balm) because my front porch wasn't looking cute, I guess. About 20 minutes later, Little Miss comes running back from the neighbors with a handmade broom pretending she's a witch. Great. One more thing.
I stuck the little things on the mantle and the planter under it, just to get them out of the way. And with the broom propped up next to it all...
I stepped off the porch and did a bit of a double take. Oh...my...gosh!
Isn't it ADORABLE??? (ignore the side walk chalk)
I'm sort of glad it didn't sell. Now, I can be the weird lady with the fireplace mantle on her large covered porch that's all cute and everything. I may even change it
seasonally
.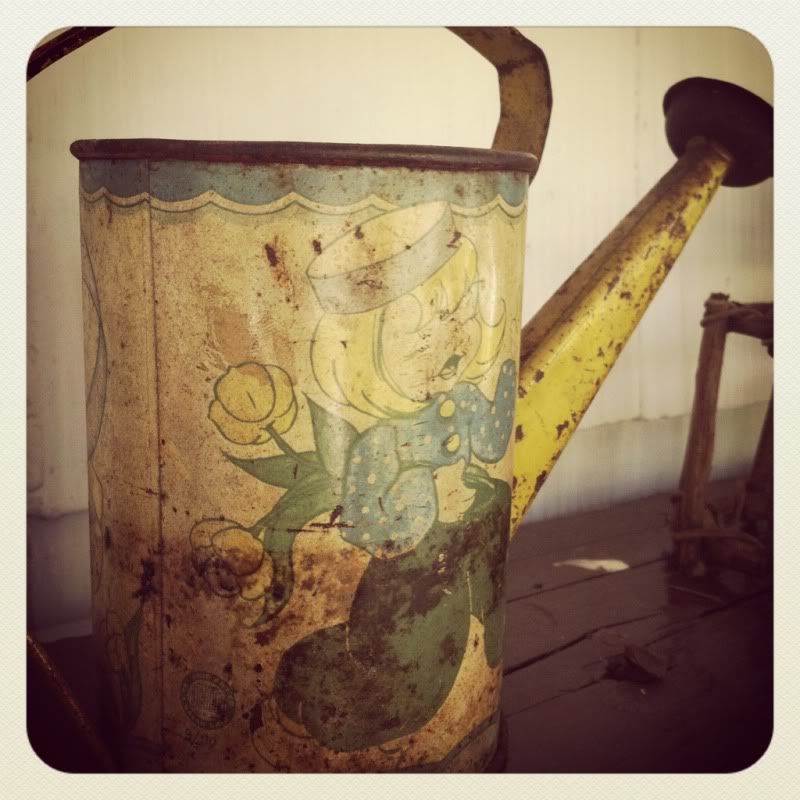 vintage watering can
A bit of greenery




Rustic
We added this cute little bird house at the end after I took the earlier picture. Actually, my girls went berry picking next door and she sent them home with the bird house AND a bowl full of berries.