I hope everyone has had fun working on their unfinished projects!
Things got really nuts around here and are, well...pretty crazy still. I almost didn't get my project done. In fact, I was working until the wee hours. So, no pictures until I can get some natural light.
My project also isn't in its permanent spot yet. I'm hoping the little ones will behave enough so I can get that done soon, too.
Remember these basic rules of the link party:
1. In order to be featured, you MUST have a link on your post back to the party.
2. Do not link to your blog. Link directly to the project you are posting.
3. Please comment on others' projects. It makes everyone feel good!
4. To encourage posting comments, turn Word Verification OFF. Some of us really really hate it because the letters are all wonky and we're old and blind :P
5. This is for UFO participants. Do not link to your own link parties. Do not link to your etsy shops or giveaways.
Your link back to our party can be a text link, or you can use this lovely button...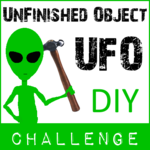 Also when you link up, you will automatically join the parties also being hosted at
The Money Pit
One House One Couple
The Bean Sprout Notes
Double Wide In the Sky
The party will run through May 7, so if you haven't started/finished yet, there's still time.