The kitchen in this house is sorely lacking...pretty much everything.
I have four upper cabinets. Four drawers.
And my only "lower cabinets" are under the sink.
This will also give you a good idea of how much counter space I
don't
have. It's not pretty.
Why, yes, I do manage to cook for my family in this!
Given the window placements, there's really not much I can do about any of that. Can't change the windows without going before the Architectural Review Board. This means, there's really nothing I can do but get creative.
Most of our food stuff is stored on this awesome bookshelf I scored at a yard sale about 8 years ago.
But this post isn't about that. Sorry.
This is about the book shelf I actually use for
books
in my kitchen.
I picked this up at Goodwill for $3. I don't have a before before picture. I brought it home and painted it grey right away. It was brown. And green.
I'm not sure what happened. I used paint with primer and it just did not hold up. Dings and scratches all over. And not the cool kind we get with distressing. More of the
you did a terrible job
kind of scratches.
First step was to use some of my DIY Chalky paint (plaster of paris + water + paint) in Sherwin Williams Exuberant Pink.
Very Girly!
After that, I added a chalky coat of Sherwin Williams Peppercorn. And, then hit it with the sander for an intentional distressed look.
I still wasn't feeling it, so I went to my fabric stash a fun, bold print. The pink wasn't really showing through the peppercorn, even with the distressing, so the red didn't clash.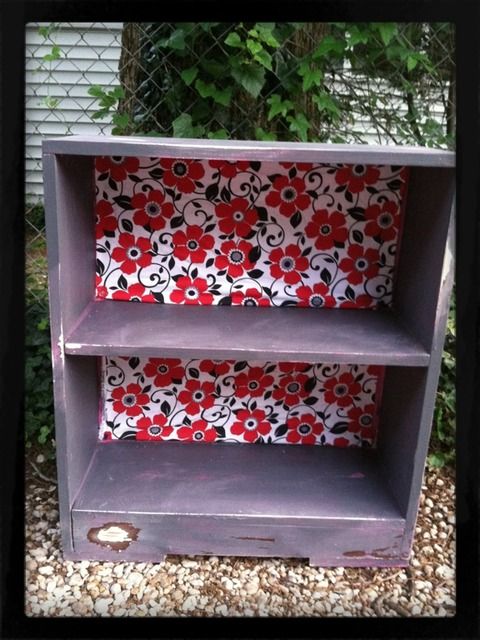 I just tacked the fabric in. Nothing permanent. This way, I can always change my mind and swap out the fabric easily. Also, my crockpot sits on this, so there's a chance something may drip. It's a nice option to be able to wash the back fabric.
Linking up to these parties:
Beautify It Mondays
**
Metamorphosis Monday
**
Show it Off
**
Inspire Me Mondays
**
Cure for the Common Monday
**
Debbie Doo's
**
Cowgirl Up
**
Simply Sensational Tuesday
**
Trendy Tuesdays
**
Show me what you got
**
Party with my Peeps
**
Tuesdays Treasures
**
Trash to Treasure
**
Ta Da Tuesdays
**
Too Cute Tuesday
**
Be Inspired
**
Jillify It
**
Tell Me Tuesday
**
project queen
**
Uncommonly Yours
**
Dream to Reality
**
Whimsy Wednesday
**
Show Me What Ya Got
**
POWW
**
Wednesday Whatsits
**
Transformation Thursday
**
20 below
**
Get Your Brag On
**
Thrifty Thursdays
**
Redoux
**
Furniture Friday
**
Thrifty Things Friday
**