D spent two years serving as a missionary for our church in southern Japan. He has a great love for Japanese food. And, when we lived in Oregon, it was really easy to find great Japanese food. We had a fabulous pan-Asian market. My kids were eating curry rice as a first food. Danger girl was eating octopus and cucumber salad at 7 months. Little B used to love eating deep fried squid.
Sadly, Alabama is not known for it's wonderful Japanese restaurants.
So, we have to make do with what we have. And, it's usually found at WalMart.
Curry is a family favorite and it's my "go to" meal for leftovers.
After the kids feast upon a rotisserie chicken, there's usually just enough left for a stir fry or curry. If we aren't having the curry the next night, I freeze the already cooked chicken. This makes for a really quick meal...aside from the rice issue. There's really no getting around the 30 minutes it takes to cook good rice. And not that minute rice stuff my kids call school rice.
We start with the basics:
Boxed Curry mix (which is actually pretty darn good)
Rotisserie Chicken (about 2 cups)
Cooked Rice
bag of frozen vegetables (or fresh if its summer)
Coconut milk (optional)
water
In a bit of oil, cook your vegetables. I like mine a bit crunchy still.
Add the chicken. Next, add in 2 C coconut milk and 1/2 C water OR you can just add 2 1/2 C water. The coconut milk gives it a creamier flavor. Add in the curry mix and cook according to the package directions.
Serve over rice.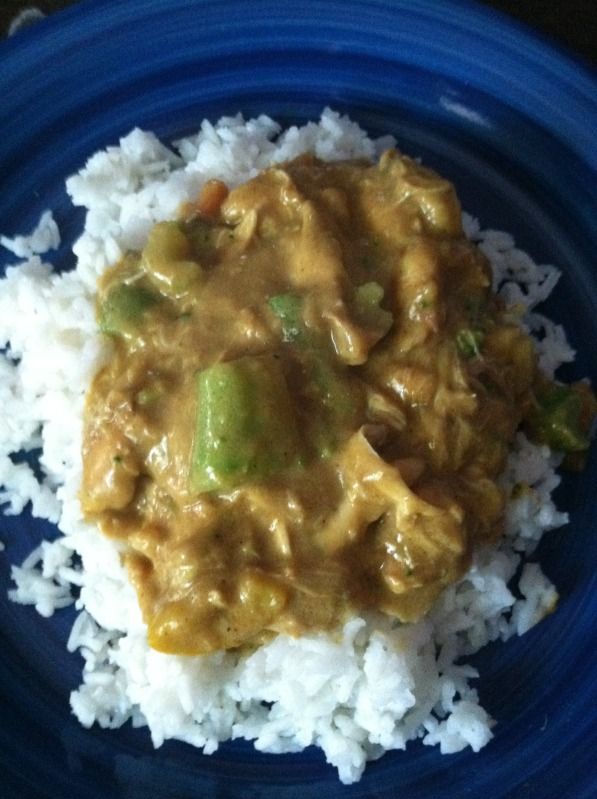 This feeds a small army. Or my family. Take your pick. I'd wager a good 8 servings. With a teenaged boy in the house, I do have to make two batches, just so we have enough leftovers for D to take for lunch the next day.
linked up at these parties:
Party with my Peeps
**
Nifty Thrifty Tuesdays
**
Our delightful Home
**
Cowgirl Up
**
Handmade Tuesdays
**
project queen
**
Talent Tuesdays
**
Simply Sensational Tuesdays
**
Tuesdays Treasures
**
Tuesday Confessional
**
Tell Me Tuesdays
**
Tuesday Time Out
**
Jillify It
**
Uncommonly Yours
**
Wow Me Wednesdays
**
Homemade by You
**
Wicked Awesome Wednesday
**
Works for Me Wednesday
**
Show & Share
**
Link it Up Wednesday
**
Kitchen Fun with my 3 sons
**
Serenity Now
**