Free furniture is a good thing. Especially if it's sturdy. Especially if you see it and thing "AHA! I know exactly what I'm going to do with that!"
When this beauty landed in my hands, I knew immediately I wanted my TV to live on it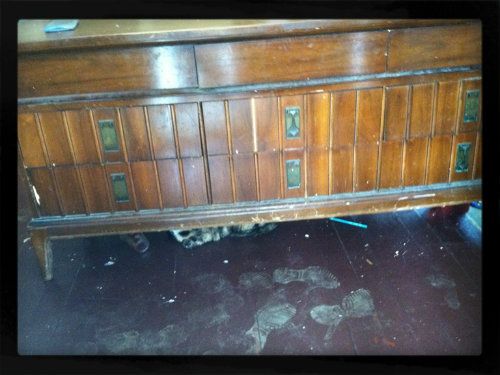 check out the pollen tracks! yikes!
It was a diamond in the rough. I really couldn't decide whether or not I wanted to paint it. The original finish was cool, but it didn't really match anything else.
My first try left me really not loving it. I used my fancy schmancy knock off "chalky paint" by mixing Sherwin Williams June Day with some plaster of paris and water. This was the result: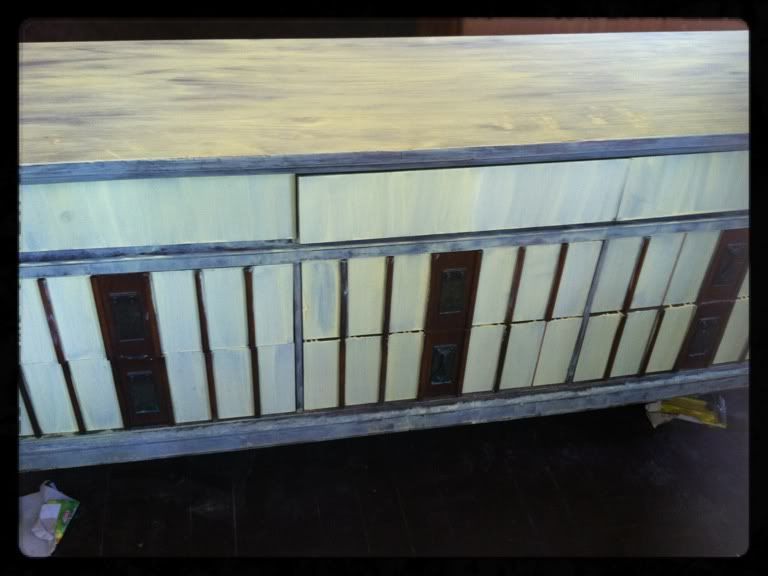 And there she sat for a couple months. Me not loving. Me no longer inspired to work on it.
Until the
UFO Challenge
.
Definitely the kick in the pants I needed.
I was totally excited. Ready to go. Then...the sink backed up. Then, it backed up again. And again.
Last night, we had a stressful situation arise
not
related to the sink. So I took out my frustrations on the dresser again.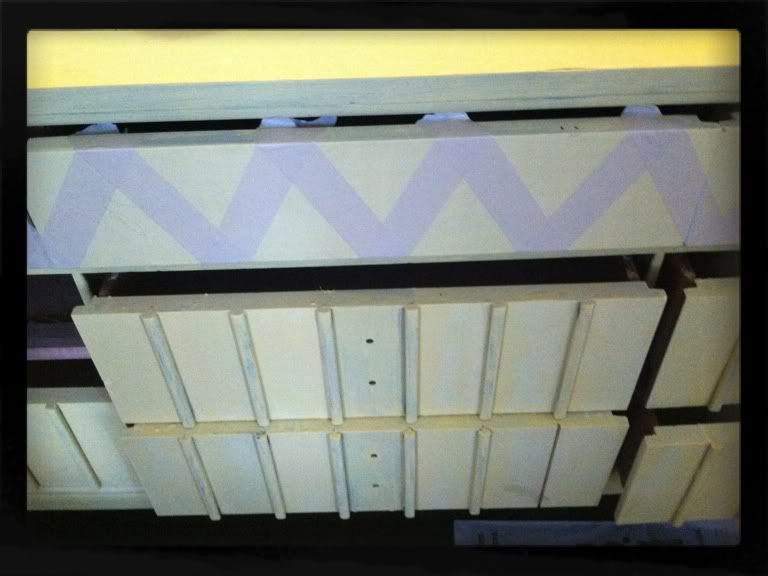 Another two coats of chalk paint. And tape. I decided to do a zigzag thing. I contemplated chevron, but that seemed like too much work. I couldn't decide on the contrast paint color. Grey? Pink? Periwinkle? I'm not afraid of color, by any stretch...I ended up using Sherwin Williams Peppercorn.
Then, I took out more frustration by hand distressing. I worked out quite a sweat.
maybe it will look better in the morning?
Still not totally loving it. Maybe I should have gone with pink? Maybe it will look better in it's "spot" with the TV? Maybe I was just so frustrated with the situation I couldn't like anything.
That's a good sign it's time to stop. LOL
Home
Thank goodness in the morning, it didn't look as bad as I thought the night before. I distressed it a bit more and in the natural light, it didn't look so....school bus-y. This is definitely not a school bus yellow. It's
gorgeous
. My favorite yellow.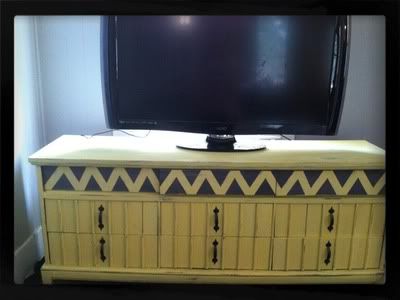 The TV is actually smaller than the last one. YIKES.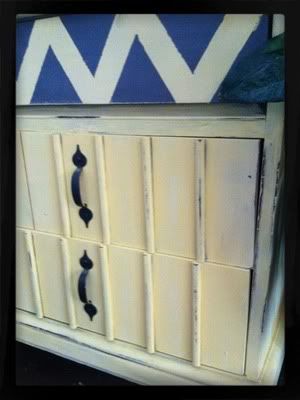 I'm ready for my close up...
I'm still wondering if I should repaint the zigzag and go with a pink. Would love some opinions on that. But I'm sooo glad it's finally done!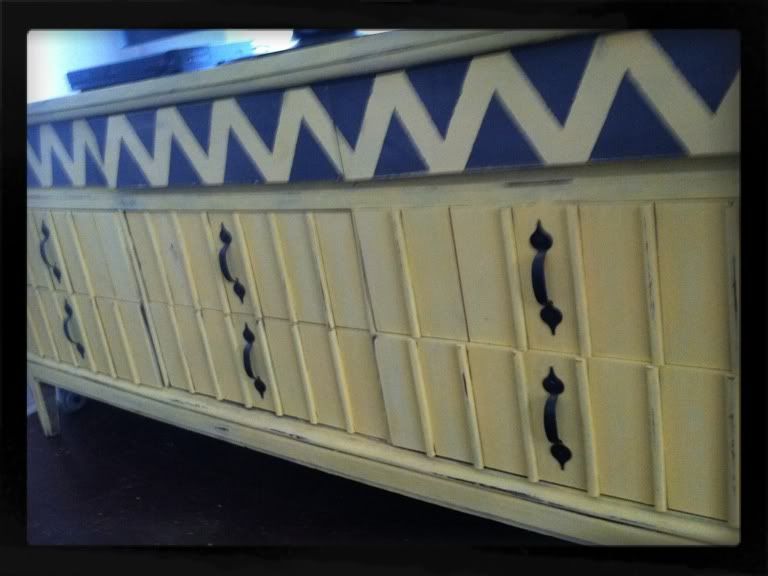 Linking up to these AWESOME parties!
UFO DIY Challenge ** Trash to Treasure ** Mod Mix Monday ** Manic Mondays **
Meet Me Monday ** Make it Monday ** Table Top Tuesday ** Tuesday's Treasures Cowgirl Up
Our Delightful Home ** Get your Craft On **
Adventures of a DIY mom Simple Sensational Tuesdays ** Show Me What you Got ** Hope Studios
Talent Tuesdays ** Jillify It Be Inspired ** Power of Paint Party ** Wow me Wednesday
Rock N Share ** Junk in their Trunk ** Handy Man, Crafty Woman ** Mom Time Out **
Southern Lovely Whatever you Want Wednesday ** Open House Party Homemade By You
Wednesday Whatsits Home & Garden Thursday ** Trash to Treasure Tuesdays **
Thursdays are YOUR Days
Creative Thursdays ** Made You Look ** Shine On Fridays ** Blissful & Domestic Thrifty Thursdays
Catch a Glimpse ** Flaunt it Fridays ** Frugalicious Fridays ** Drab to Fab Days of Chalk & Chocolate Thrifty Groove Super Sweet Thursdays **
Project Party Weekend ** The Vintage Farmhouse ** Funky Junky ** Pinned It Made It **
Debbie Doos Newbie Party ** primitive & proper **