The first ever UFO project party has wrapped up! It was a small party, but you know, good things start small and then grow. Be on the look out for other parties, and if you're interested in cohosting a blog party like this with me, let me know :)
There were so many awesome projects. But to be honest, one project stole my heart right away. It stole my heart and it spoke to me. It
motivated
me. And, I'm not sure that last part is a good thing. It at least gave me hope because I have a very similar ugly thing in my house that needs work. I knew deep down there was pretty in it, but I needed to see this project to really catch the vision...
It's
Lynn's Staircase Reborn
.
It's gorgeous. I mean really really beautiful.
Our house...well...it hasn't been updated since around 69. We're working on it. But it's a slow process. And seeing her staircase in such a beautiful state gives me hope that one day, mine won't look like barf. Since my home is also more than 100 years old, I have a feeling the work will be very much the same.
Ok, no more hogging Lynn's spotlight with my own sob story. Don't forget to grab a button if you've been featured!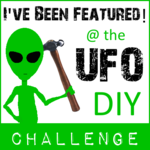 If you weren't featured on my blog, don't forget to check out the blogs of my cohostesses to see if you were featured there! And also check out the featured projects and send some love :)
The Money Pit
One House One Couple
The Bean Sprout Notes
Double Wide In the Sky