When people come to my house, there's often a bit of confusion about the location of the entrance.
If you come up the side of the house, there are two sets of stairs, both leading to doors. The first is an awkward very short door that used to be the servant's entrance. We never use this door.
The second door is to our laundry room, which leads to the dining room. Only really close friends ever come in this way. It's usually filled with laundry in some state of being washed, dried or waiting for folding.
At the front of the house, up on our lovely porch...
We have the front door at the top of the stairs but we also have a set of double doors that lead to our living room.
It would make sense to just knock on the front door, but in our neighborhood many of these larger homes were subdivided into apartments. Ours was. When we moved in, we had to remove a kitchen from the upstairs! It's not uncommon to hear a few "comments" about how we have the "whole house."
When our home was first built, it was obvious visitors were supposed to go to the main entrance at the top of the stairs. The double doors were opened in the summer to help cool the home. As was also typical of homes of it's time, we have a vestibule leading to a reception hall, separated from the living room.
It sounds
very
fancy.
What it translates to is we have this itty bitty space between a large useless area near the stairs and the front door. Our house has a lot of spaces we don't know what to do with.
The vestibule is what most people see when they visit. It's the first place they get a vibe for what our family is about.
And it was a
total snooze fest.
:Like I said, it needed some help.
It needed some
color
. Something to brighten it up. Something...
YELLOW.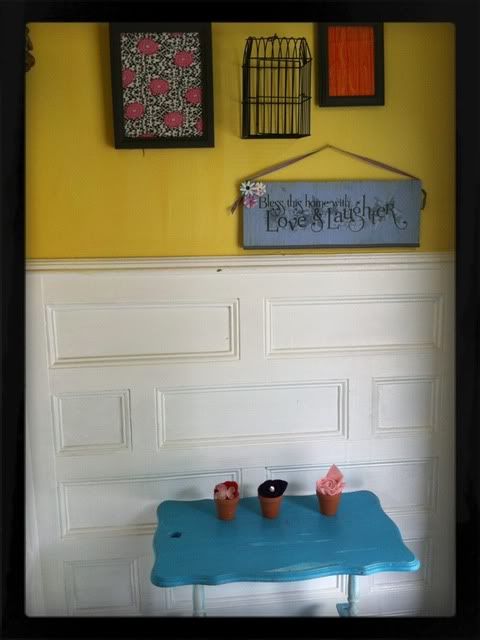 good morning, yellow!
I used my favorite yellow, Sherwin Williams June Day. It is such a pretty yellow. Not school bus at all.
I painted old wooden frames with Sherwin Williams Peppercorn so they'd match, then filled them with some cute fabric. Also hanging on the wall is a really cool little bird house. One day, I plan to find a cute crafted bird to live there.
If you're really paying attention, you'll note those are the same colors I used on my awesome
free dresser transformation
!
The sign is a piece of craftiness I did with the little girls one afternoon. We used all sorts of supplies we had just lying around the house. Yup, another leftovers project!
My little table... I still haven't done a before and after on her....hope she's not feeling too neglected!
With little felt roses in little pots...again, just craftiness from leftover crafts.
And of course, we can't forget D's Japanese lion ...
who doesn't nearly as scary as he did before...
In fact, I think he almost looks happy not to be completely washed out against the white.
I really love that I was able to put all of this together just using found items around my house :)
Linking up at these parties
Transformation Thursday **
Made U Look ** Home & Garden Thursdays ** House of Hepworths ** Somewhat simple **Open House PArty ** Delightfully Inspiring ** Radcrafter **
Get your brag on ** 52 mantles ** Mom on Time Out ** Thrifty Thursdays **Catch a Glimpse
20 Below **Treasure Hunt Thursdays **Drab to Fab **feathered nest fridays ** Thrifty Things Friday ** Shine On Fridays ** Inspiration Fridays ** Frugalicious Fridays ** Happy Hour Projects **
Flaunt it Fridays **Days of Chalk and Chocolate ** Home Sweet Home **My Repurposed Life **Blissful & Domestic ** Redoux **Fabulously Flawed **Serenity Now ** Tickled Pink
Mrs. Hines Class **Weekend Show Off Party **delicately constructed ** Its a Hodge Podge Friday **
Pinned it, Made it ** Super Saturday Party **Tater Tots & Jello ** Weekend Project Party **
Young & Crafty ** Too Much Time ** Handy Man, Crafty Woman ** Funky Junk Interiors **
It's Overflowing ** Debbie Doo's Newbie party ** I should be mopping the floors ** Shaken Together ** Fabulous Fridays ** Sunday Stop ** Sunday Best ** Creative Me ** Beautify It Mondays ** Metamorphosis Monday ** Busy Mondays ** Cure for the common Monday ** Skip to my Lou ** Nifty Thrifty Tuesday ** Our Delightful Home ** Party with my peeps ** Cowgirl Up ** Project Queen ** Talent Tuesdays ** Simply Sensational Tuesdays ** Tuesdays Treasures ** Jillify It **