This was a slow grocery week. There just weren't really sales or coupons for things we need. However, my kids absolute favorite cereal was on sale, so I ended up buying 8 boxes.
The cereal not only makes my kids happy, but it was a double deal. For every 6 boxes of specially marked cereals I buy, I can enter the codes and get FREE movie tickets!
We've done this for the last few years and it's great to get a bonus for buying something we eat all the time.
The promotion started about a month ago, and we've already earned three movie tickets! That's pretty darn awesome. Five more tickets and the whole family can see the movie for free. Given that we go through 8 boxes of cereal a week, that won't take too long.
The cost of the 6 boxes of cereal, after coupons is just $9, so the same price as the movie ticket. Most people eat cereal, so it's a real win-win.
And for those who are on the WIC program, some of the cereals on this promotion are also available with WIC vouchers. That means if you get WIC, you can really go to the movies for free. I remember those days when we did use WIC and it would have been really nice to get a free date night by taking advantage of this promotion.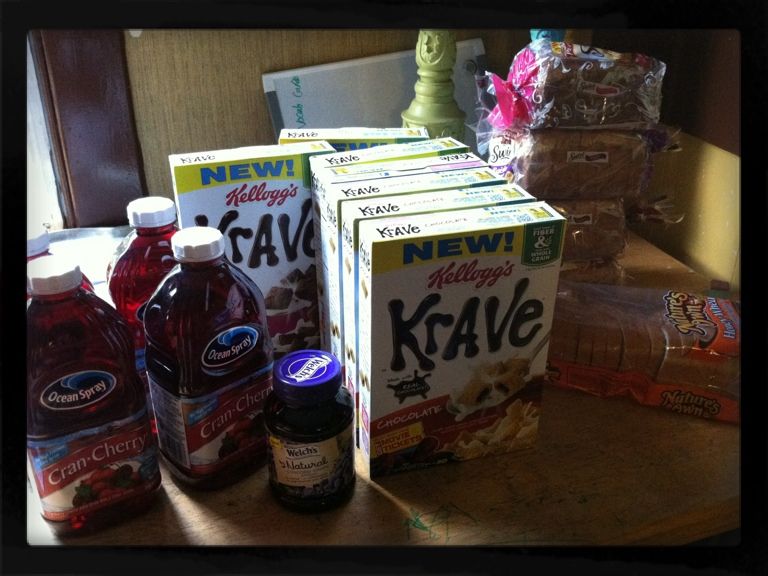 8 boxes KRAVE cereal ($1/2 found on cereal box X4)
Nature's Own Bread
Welch's Naturals Grape Jelly (.75/1 hang tag)
4 Pepperridge Farm Swirl Bread (.40/1 X4)
4 Cran Cherry Juice ($1/1 X4)
$5/$30 Winn Dixie coupon
Total spent $18 (pretax) total saved $50) percent savings: 75%
Linked up at:
Southern Savers
**
I heart Publix
**
Stuff N Nonsense
**
Frugalicious Friday
**
Chic on a Shoestring
**
Maiden D'Shade
**