We kicked off summer this weekend by hosting a BBQ for the Elders Quorum at our house. D is a counselor in the presidency and we are the only ones with enough parking and a big enough yard to do a big backyard BBQ.
The weather was perfect. It stayed in the mid80s with the humidity under 50 percent. That may sound awful, but here...that's actually a pretty nice day.
I should have taken a picture of the setup, and I really regret it now...but D arranged the smokers and the BBQs, and the tables in such a way that it gave a great visual of exactly how far out we need our deck to come. That's IF we can get permission from the city to build a deck.
At one point, I counted roughly 50 people in our backyard! And we probably could have held another 50 without a problem. This is the biggest gathering we've hosted so far.
D volunteered me to make potato salad and coleslaw. I hate both. I delegated the potato salad to a friend and bought bagged salad. At the last minute I decided to make a coleslaw after all.
I started with
Paula Deen's coleslaw
as a base and built my own sauce to give it a bit of sweet heat. Since the really large bowl was almost empty by the end, I'd say it was a pretty big hit.
Start with the basics: diced onion, chopped green pepper, matchstick carrots, and cabbage. Toss in some mayo and the secret ingredient, plus sugar and vinegar and you're good to go! I had to triple the recipe for this crowd. Here's a smaller version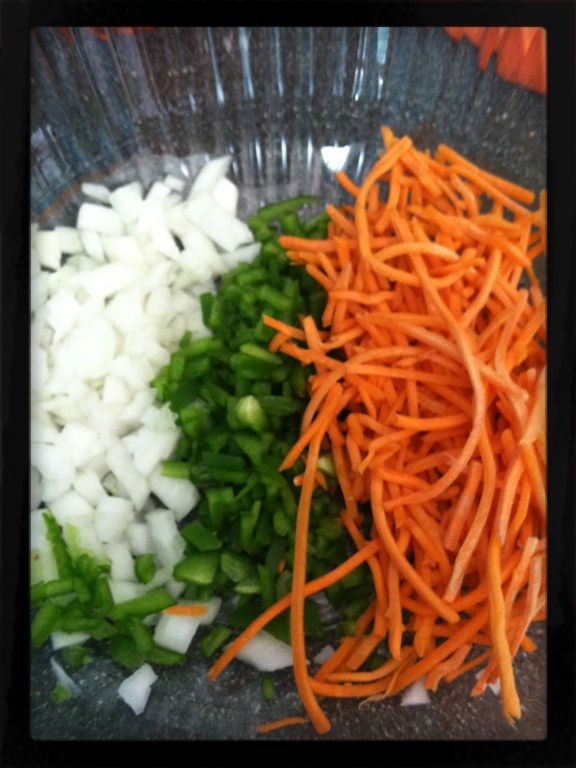 1/2 bell pepper, chopped
1 /2 small onion, chopped
1/2 large carrot, chopped
1/2 cabbage head, sliced then chopped
1/2 cup mayonnaise
1 T Weber's New Orleans Cajun Grill Seasoning
2 tablespoons sugar
1 tablespoon white vinegar
In a large bowl, toss together the bell pepper, onion, carrot and cabbage.
In a small bowl, mix together mayo, the New Orleans Cajun seasoning, and sugar. Stir in vinegar.
Add the dressing on to the salad mixture and chill for an hour before serving.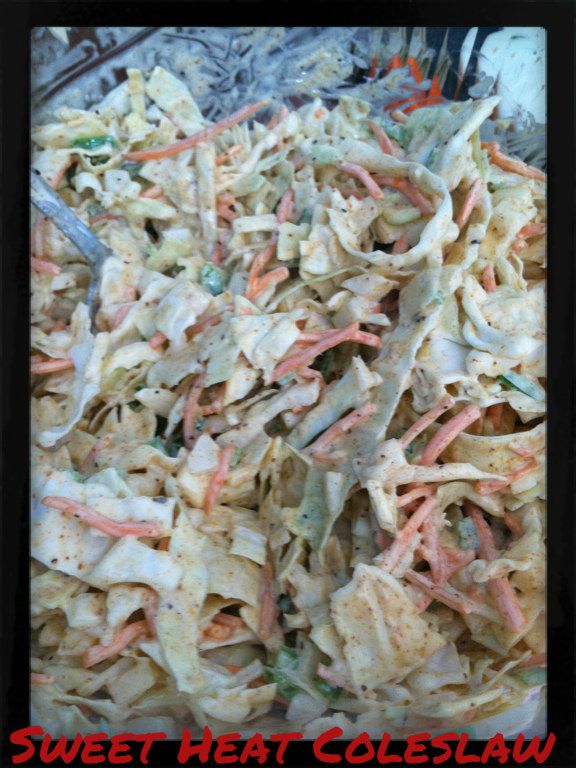 D was surprised by the heat at the end. It doesn't get you at first. It lures you in like a sweet coleslaw, then hits you with the cajun flavors. Definitely not MY grandma's coleslaw!
Linked up at:
Tatertots & Jello
**
Weekend Bloggy Reading
**
Project Party Weekend
**
Weekend Show Off
**
What's Shakin'
**
Overflowing with Creativity
**
Busy Monday
**
Scrumptious Sunday
**
Newbie Party
**
Mop It Up Mondays
**
Creative Me
**
Tuesday Confessional
**
Simply Sensational Tuesday
**
Show me What you've got
**
Ta Da Tuesday
**
Tell Me Tuesday
**
Talent Tuesday
**
Jillify It
**