It's Christmas!
OK, I can dream...dream about cooler weather, pretty lights, decorations, the smell of pine trees and baking...oh yes.
Baking. I miss baking!
The weather has "cooled" down a bit to the mid 90s.
My crockpot is getting a workout because it's too hot to turn on the oven!
But I can still dream about Christmas! And you can start pinning away all these fantastic projects!
Christmas morning in our house starts with cinnamon rolls. While the kids sit in the living room and rip through the presents, cinnamon rolls are heating up in the oven, making the house smell absolutely amazing. Once the presents are opened, we go right to warm and gooey breakfast without a lot of fuss.
Over the years I've tried several recipes, but this one I created last year was hands down the best. It was so good, it took a blue ribbon at the fair!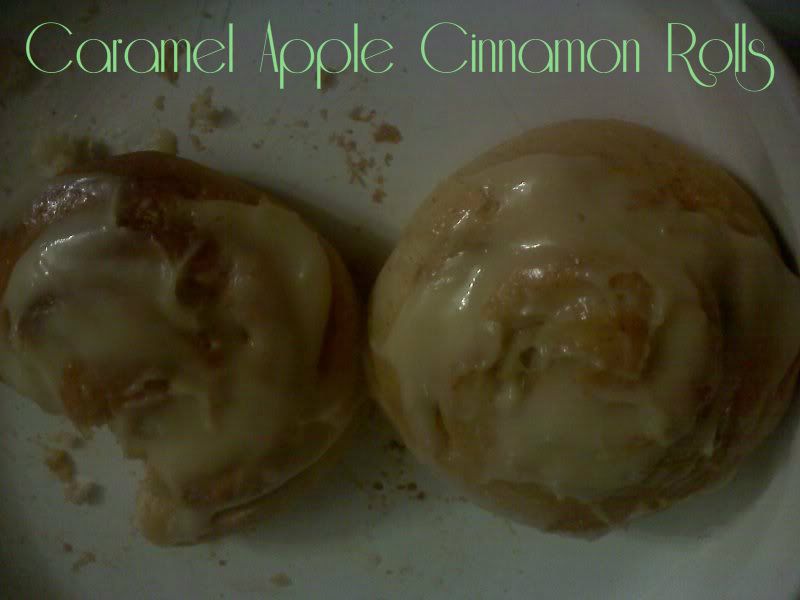 Caramel Apple Cinnamon Rolls


For the cinnamon rolls:
6½ T sugar
1 tsp. salt
1 tsp. ground cinnamon
5½ T. butter, at room temperature
1 large egg, slightly beaten
3½ cups all purpose flour
1 package instant fleishman's yeast
1 cup plus 2-4 tbsp. whole milk at room temperature
For the filling:
1½ T butter
3 Gala apples, peeled, cored and cut into ¼-inch slices
¼ cup sugar
½ t cornstarch
¼ t ground cinnamon
Pinch salt
1 t vanilla extract
3 tbsp. plus 1 tsp. sugar
¾ tsp. ground cinnamon
For the glaze:
4 oz. cream cheese
1 T. butter
3 T.
caramel sauce
(I made mine from scratch or you can use ice cream topping)
1 T milk
½ t. vanilla extract
1 C powedered sugar
Cream together the sugar, salt, cinnamon, and butter on medium-high speed until smooth. Mix in the egg. Mix in the flour, yeast and milk until a dough forms. Knead about 8 minutes until the dough is silky. Lightly oil a large bowl and transfer the dough to the bowl, turning once to coat. Cover with plastic wrap and let rise at room temperature for about 2 hours, or until doubled in size.
Meanwhile, make the filling. To make the caramelized apples, melt the butter in a skillet over medium-high heat. Add the apple slices, sugar, cornstarch, cinnamon, and salt. Mix until the apples are evenly coated. Cook about 18 minutes, stirring occasionally. Remove from the heat and stir in the vanilla. Set aside to cool. In a small bowl, whisk together the sugar and cinnamon to blend; set aside.
On floured surface, roll it out into a rectangle(about 12 x 14 inches for larger rolls or 9 x 18 inches for smaller rolls). Combine the sugar and cinnamon in a small bowl and mix to blend. Sprinkle the cinnamon sugar mixture over the surface of the dough. Evenly distribute the caramelized apples over the top of the dough. Starting with the wide edge, roll up the dough. Pinch the seam shut, and with the seam side down, slice the log into your desired number of rolls. Transfer them to a prepared baking placing the rolls about ½-1 inch apart.
Cover loosely with plastic wrap and let rise at room temperature 75-90 minutes.
Preheat the oven to 350˚ F. Bake for 20-30 minutes, or until golden brown.
To make the glaze, combine the cream cheese and butter in a small heatproof bowl and microwave in 15-20 second intervals until it is warm enough to whisk together. Whisk in the caramel sauce, milk and vanilla extract until smooth. Whisk in the confectioners' sugar until smooth. Swirl the glaze over the top of the cinnamon rolls. Let cool at least 15-20 minutes before serving.
*******
Now do you want more great projects?
Monday, July 23rd for Holiday Fare Melissa's Cuisine, and Go Ahead Take a Bite You won't want to miss their fabulous recipes
!
Come back on Tuesday,July 24th to get some great ideas on hand crafted items with Stone Gable and Living on Cypress Hill
Be sure to visit again on Wednesday, July 25th for a Cookie Exchange with Laughter and Grace
and on Thursday, July 26th, you'll be treated to some beautiful Chrismas Card ideas as well ways to display them with Scraptastic Memories and Mrs. Hines Class
Then, on Friday it's a Blog Hop! So pull out those old posts and dig through your files and link up your recipes, crafts, and decor ideas at any one of the hostesses blogs 8 hostesses, 1 blog hop.

\linked up to these awesome parties:
Debbie Doos
**
Scrumptious Sundays
**
Mop it Up Mondays
**
It's Overflowing
**
The Gunny Sack
**
Busy Mondays
**
Made by You Mondays
**
Show me What You've Got
**
Homemade Tuesdays
**
Cowgirl Up
**
Tuesday Confessional
**
Simply Sensational Tuesday
**
Talent Tuesday
**
uncommonly yours
**
Wow me Wednesday
**
Homemade by you
**
Whimsey Wednesday
**
Taking a Time Out
**
Creative Thursday
**
House of Hepworths
**
tater tots & Jello
**
Back for Seconds Social
**