Better late than never seems to be a theme for birthdays at our house. The kids always get around to having cake with the family...eventually.
And, to be honest, this year I did a whole lot better than I did last year for Little B's birthday: celebrating his June birthday in September!
This year, we put off his party and the kids headed to Flint Creek Watertown in Mississippi. Fun with cousins. Sunburns...no complaints from Little B!
And then a day in New Orleans...Munching on beignets at Cafe du Monde and seeing the city. Turns out Little B loves music and recently started playing the trumpet. So this was pretty awesome for him, all around.
Once we were home, it was finally time to have cake. For a special treat, I made an Earthquake Cake. It gets it's name because it looks like there are fissures all through the cake. I've had this recipe for years and pull it out on special occasions...like my youngest son turning 11.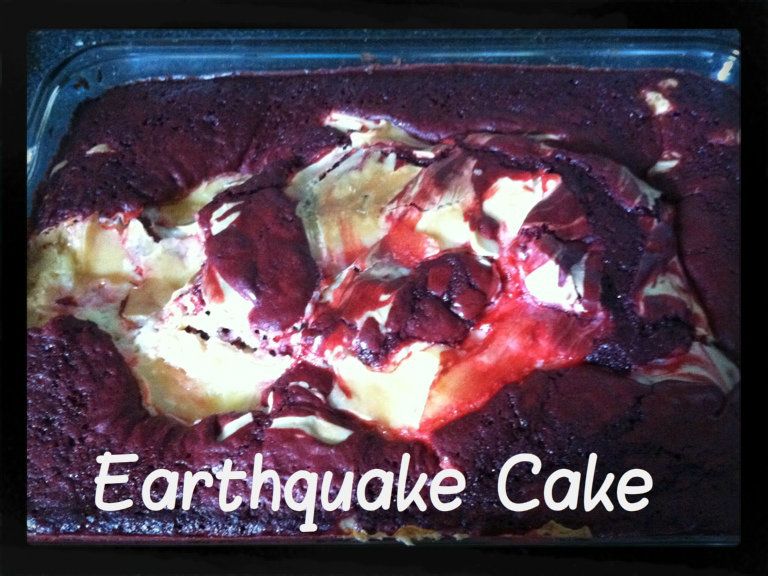 The traditional recipe for this calls for German Chocolate. I changed it up this year and used Red Velvet. mmmmm
1 cup flaked coconut
1 (18.25 ounce) package cake mix (German Chocolate, Red Velvet, Fudge)
1 (8 ounce) package cream cheese
4 cups confectioners'

sugar

1/2 cup

butter
Preheat oven to 350 degrees F (175 degrees C). Lightly grease the bottom and sides of one 9 x 13 inch baking pan.

Layer coconut in the bottom of pan.

Prepare cake mix according to package instructions and pour over coconut.

Combine cream cheese, butter or margarine and confectioners sugar and beat until smooth. (TIP: Add the confectioners' sugar 1 C at a time in order to avoid a HUGE mess!) Pour over cake mix.

Bake at 350 degrees F (175 degrees C) for 60 minutes. Toothpick will not come out clean.

linked up at these great parties!
Debbie Doos
**
It's Overflowing
**
Show it Off
**
Busy Mondays
**
Cure for the common Monday
**
Scrumptious Sunday
**
Mop it Up Mondays
**
Nifty Thrifty Tuesday
**
Show Me What You've Got
**
Handmade Tuesdays
**
Cowgirl Up
**
Tuesday Confessional
**
Simply Sensational Tuesday
**
Talent Tuesday
**
Tuesday's Treasures
**
Uncommonly Yours
**
Homemade By You
**
Whimsey Wednesday
**
Wednesday Whatsits
**
Taking a Time Out
**
House of Hepworths
**
Creative Thursday
**
Days of Chalk and Chocolate
**
Flaunt it Fridays
**
Whatcha Whipped Up
**
Shine On Fridays
**
Fridays Unfolded
**
Kitchen Fun with my 3 sons
**
Hodge Podge Friday
**