Have you ever visited a city and instantly fell in love? That's what is was like for me and New Orleans.
I am a huge history nut and absolutely love that I live in a city that is
historically significant
. But New Orleans...there's just something magical about it. Maybe it's the merging of so many cultures together? The architecture? The food?
All I know is I really want to go back...without the kids!
The kids had a great time with all the street performers and eating beignets.
mmmmm Cafe du Monde
Across from Cafe du Monde is
St. Louis Cathedral.
My girls thought it was Cinderella's castle. LOL Once inside, they weren't disappointed Cinderella wasn't there.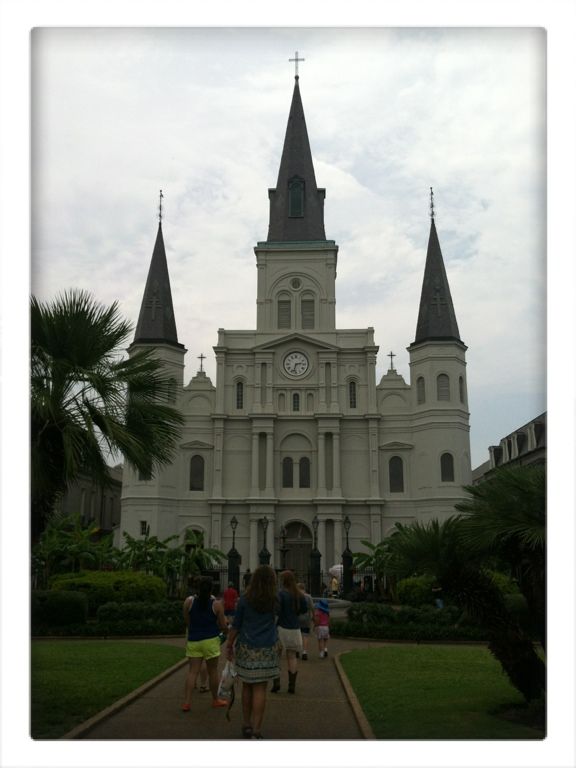 The art was amazing. We're not Catholic, so the children and I were fascinated by the ornate details. Our churches are very boring. Very little art and uncomfortable cushioned seats. And our organs aren't nearly as fancy.
The children were spent, so we didn't have any time to see the cemeteries. That's definitely on the list for next time. And a haunted city tour.
Have you visited New Orleans? What were your favorite things to see or do?

linked up at:
Uncommonly Yours
**
Whimsy Wednesday
**
Wednesday Whatsits
**
Fridays Unfolded
**
Hodge Podge Friday
**