Happy, Happy Day!
It's time to both give and receive some Pin'inspiration!
We totally, totally appreciate your efforts and each week we are beyond wowed with what you do!
A few of the projects that we found especially fantastic were....(remember to grab a nifty button if you were featured C:)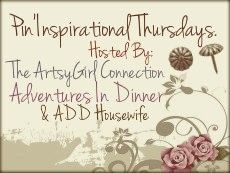 Don't you love when an existing piece is given a new life?


What do you have for us this week?