I have an apron obsession. I recently made an apron for a swap and it turned out super cute!
The theme was a ruffled apron...and we were linked to
This Ruffled Apron
tutorial for inspiration.
I originally pinned the blog post because of the Valentine's Tree and never scrolled down to see the apron tutorial! I can't believe I didn't scroll down.
I didn't follow the tutorial exactly when I made my apron. In fact, I didn't even read the tutorial. I looked at the picture and ...just went with it. I'm not that great at tutorials since I usually don't follow the directions when I sew. I just look at the pictures and the pieces ... and things usually turn out great :D Keep in mind, though, I've been sewing for 25 years. This sewing method is not one that should be used by someone just starting out LOL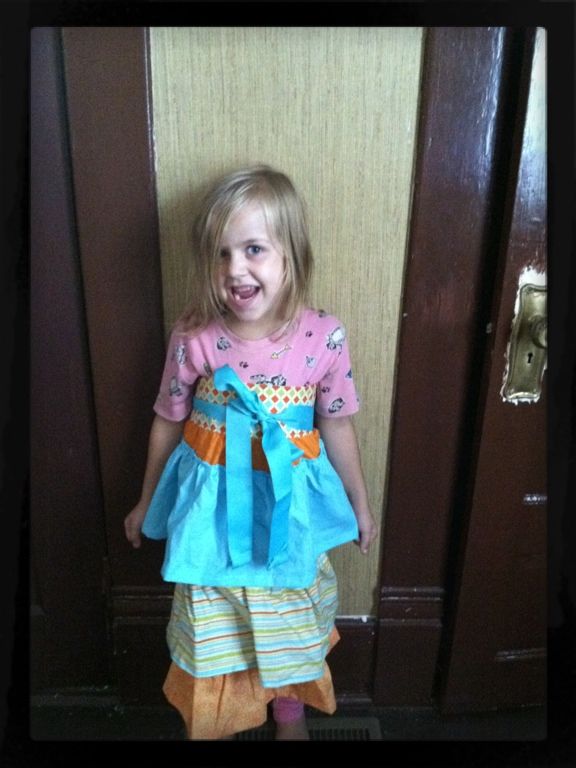 I had a whole tutorial typed out on how you could make this cute apron.
But, in the spirit of keeping it real...
Y'all I looked at the picture and winged it.
If you can sew a straight line, and know how to gather, then you, too, have sufficient sewing skills to look at my picture and figure it out.
Just so that this post isn't a total waist of...
cyberspace
your time, here are a few sewing tips
1.
Sew with your iron
. After pinning your hem, press it. This makes it lay flat and will look far better. Before finishing your raw edges, press your seams. This again, will make things just lay better.
2.
Snip and Rip
. When you're sewing without a pattern and need strips of fabric, snip about an inch in to where you plan to cut...then rip the fabric. It will rip straight. I used this technique on my ruffly layers.
3.
Ribbon!
Instead of doing traditional apron strings, I use ribbon. It's fun. And, it doesn't require you to flip fabric inside out.
4. If you must
flip fabric, or thread elastic,
invest in a
loop turner
. I had no idea these even existed until I was complaining to my grandma about how much I hated flipping apron strings right side out. And I've been sewing for
years
. This is one of those sewing life changing tools. I just wish I knew where mine were...last time I saw them, they were being used in a sword fight...
5.
Applique
...love the look...hate trying to do it on my machine. If you have a serger, do a rolled hem around the edges of your applique. Then, stitch it down using your machine.
I'd love to hear some of your favorite sewing tips that made your life easier :)

linked up at:
Metamorphosis Monday
**
Overflowing with Creativity
**
The Gunny Sack
**
Inspire Me Mondays
**
Busy Mondays
**
Cowgirl Up
**
Tuesday Confessionals
**
Simply Sensational Tuesday
**
Tuesday Treasures
**
Wildly Original
**