With the kids back in school, it's time to look at the grocery budget again and adjust a few things.
I don't know about your kids, but during the summer mine are always
starving
. And not just hungry starving. . . the
whiny
starving kind. Which really is the worst kind of starving. It's bored + the munchies.
I do my best to provide healthy snacks, but seriously...
They go all day without snacking during school, but at home...heaven forbid there aren't two snacks plus lunch between breakfast and dinner.
As a result, I'd buy lots of snacky foods during the summer and they'd be gone in two seconds. So, I'd head back to the store for more snacks...with coupons of course. And since I had a few coupons, I'd try to get my grocery totals to a magic number to take advantage of a $5 off total purchase coupon.
Needless to say, I was going to the store far too often and buying lots of "extras."
Time for a new strategy. Or rather an old one.
Back when D was doing his undergrad, we had a very tiny budget. As we looked at the needs vs wants, we realized that D was spending a lot of money on a candy bar and soda. After all, it was just $2...but that was adding up .... fast.
And looking at our situation now, I realize my trips to the store to grab a great deal are my candy bars and sodas. It's adding up.
After my recent post about
how to set up a food budget
, I needed to take my advice to the next level.
I've made a menu for two weeks. I've listed everything I'm going to need/run out of in the next two weeks. And unless it's cereal (the cereal sale isn't that hot this week!) or something under 50 cents with the coupon, I'm not running to the store.
That means I'm stocking up at Costco for meats, dairy and eggs; the bread store for...well, bread; and the farmer's market for produce.
Everything else...it better be in my pantry or I can make it from scratch. Gosh, it sounds less like a budget slashing and more like going off boxed goods cold turkey!
Today, I spent $70 (includes tax) at Costco.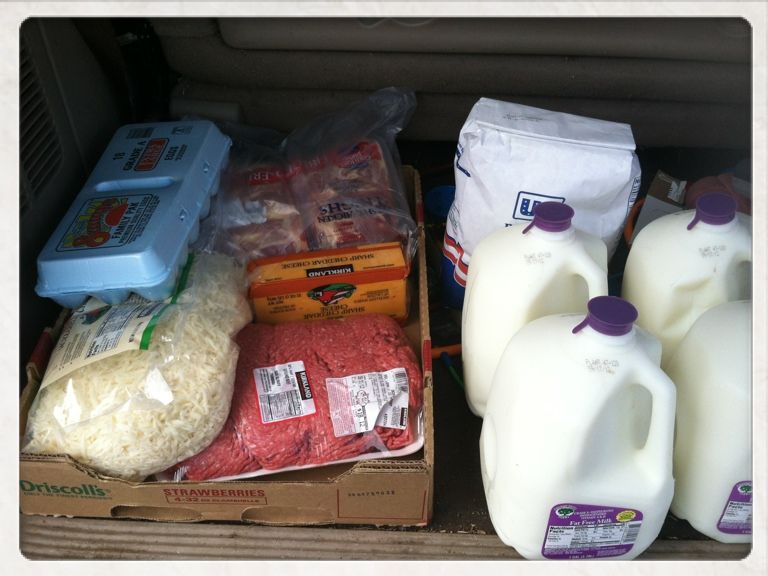 I'm including my "savings" for these staple items compared to the regular grocery stores:
4 gallons of milk @ $2.65/gal vs $3.99/gal
18 ct eggs @ $2.09 vs $1.99 (12 ct eggs)
10 lbs chicken thighs @ .99/lb vs $1.99/lb
6 lbs extra lean ground beef @ 2.99/ lb vs 4.29/lb
2 lbs sharp cheddar cheese @ $4.55 vs $10
5 lbs mozzarella cheese @ $11.25 vs $25
While some of the savings was small, my overall savings by shopping for these items was 30 percent! I saved 50 percent on solely the cheese. I was able to pick up four gallons of milk for what three gallons costs me at other stores.

Linked up at:
tater tots and jello
**
Fabulous Friday
**
Thrifty Groove
**
Hodge Podge Life
**
Delicately Constructed
**
Chic on a Shoestring
**
Cheerios& Lattes
**
Weekend Show OFf
**
Shaken Together
**
doodles & stitches
**
Creative Me
**
The Gunny Sack
**
Busy Mondays **
Making Spaces Monday
**
Show me what you got
**
whimsy wednesday
**
creative spark
**
your whims wednesday
**
back for seconds
**
house of hepworths
**