Over the past few years, our family has been working very hard to become debt free. It is definitely a family task. We all have to remain focused and remember wants vs needs.
As race to get out of debt nears the end of stage one completion (paying off all our consumer debt except the mortgage), we are realizing the light at the end of the tunnel is not an oncoming train!
The biggest key for us was making a budget and sticking to it!
I often hear people talking about how much money they spend each week on food and eating out. This is definitely an area where you can pretty much miss the giant sucking sound of money leaving your wallet!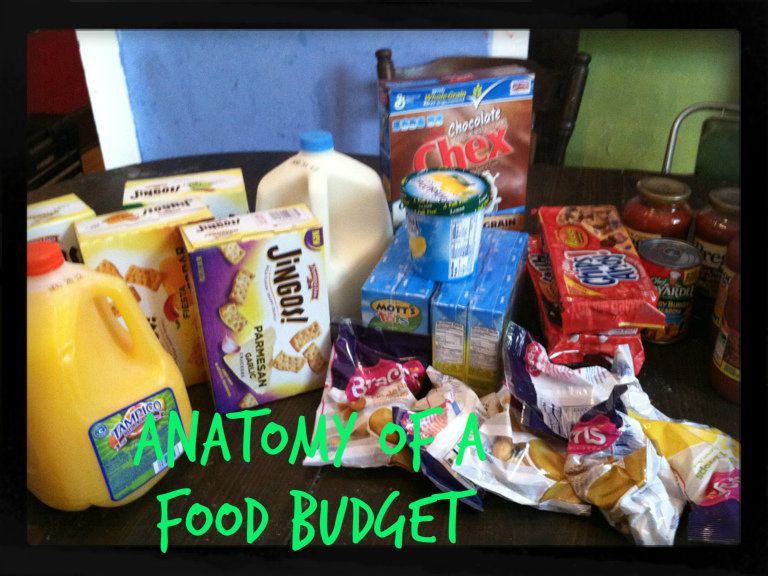 The first step to making a basic food budget, isn't dealing with the money.
It's Menu Planning.
Menu planning is crucial because it means you are aware of what you are eating at each meal. It means, you are making sure you have all the ingredients you need for the week. And, making those awful trips to the store on the way home wondering what on earth you are going to make for dinner.
There are two "types" of money saving menu planning: Planning based on what's on sale this week and shopping your well stocked pantry. We'll get to the pantry in a moment...
Which leads to step two: Shopping with a List.
Go to the store once, with your list. Get what you need. Get out.
Stick to your list!
This eliminates all the extra trips to the store for one thing, that usually ends up costing two to three times what you intended to spend.
Now, you're ready to figure out
how much you're going to spend
.
I wish I had a great formula for you. I don't. This part really depends on your family, what you eat and what sorts of stores you have available. This is what works for us and our family of 8.
1.
The Protein Budget:
I shop for proteins once or twice a month. When I see a great sale, I stock up. I went three months without buying chicken. We eat vegetarian a couple times a week. I am able to save more money on proteins by shopping at Costco for some items and hitting the markdown meats for others.
If you are concerned about buying chicken that's marked down, for example, you
poach it in the crockpot
then shred it and freeze! Bonus #1: you have pre-cooked chicken ready to toss in casseroles, soups or stews. Bonus #2: You now have chicken stock, that you can also freeze and use in recipes instead of buying at the store.
2.
Produce Budget:
Because I am able to shop at the Farmer's Market year round, I have a budget for produce. During the summer, I don't really use this because we do have a garden and friends who also share their garden bounty. Next year, I plan to make my garden even bigger so I am able to put up more goodies for the fall.
Here are some ideas for saving money on produce
.
This week, I spent $9 at the Farmer's market and brought home onions, plums and about 7 lbs of culled fruit we need to eat NOW! Which is fine, because as soon as the kids saw the basket, they attacked it.
3.
Pantry Budget:
This is the money spent at the store. How much are you planning on spending at the store for your pantry. For me, this is also my coupon shopping budget. I call it a pantry budget because this where you can really get ahead of your food budget by stockpiling.
I'm not talking Hoarders: Coupon Edition type stockpiling, unless you're up for that. Many people start out full speed couponing and burn out quickly. I'm talking more along the lines of figuring out how much you will use of certain items over the space of about 3 months, and stocking up at the bottom price using coupons.
Once you have a good pantry, you don't have to rely as much on what's on sale that week for your menu planning. The weekly sales become a way to replenish what you use.
Even if you're sure there's no way there are coupons for the things your family eats, keep in mind some of the best coupon values are on things like toothpaste and toilet paper. So even if you can save on those items, it's still money you are saving! Every dime counts.
4.
Eating Out
: I don't care for eating out often. I'd rather experiment with fun recipes and interesting ingredients at home. I still make a small budget for date night, which probably be included in another budget category, but I put it here for my convenience.
Despite inflation and adding members to our family, I've been able to keep our food budget pretty stable over the past few years. And, we're actually eating better! Just ignore the last few weeks of grocery totals where I've been stocking up for the snack buckets for school. The schools don't allow us to send in homemade snacks, no matter how healthy and every time I've sent bags of fresh fruit, the fruit has come home to me. There's no opting out of the bucket...so it's crackers and junk...blech...that's a post for another day LOL

linked up at:
It's Overflowing ** Sunday Scoop**Cheerios & Lattes **Debbie Doo's Newbie Party **Busy Mondays ** Mop it Up Mondays **Motivate me Mondays ** More the Merrier Mondays ** The Gunny Sack** Making Spaces Monday **Our delightful Home ** Cure for the common Monday **Simply Sensational Tuesday **Open Call Tuesday **Cowgirl Up **Your Whims Wednesday **Penny Pinching Party** Handy Man, Crafty Woman **Wildly Original **Mom on Timeout **House of hepworths **