All the birthdays I do for the kids can't be sensational. I mean, Little Miss' party was pretty
darn awesome.
Well, except for the cake. Maybe I just need to skip making birthday cakes.
My ideas start out well enough.
Cake pops.
And not just that...multicolored cake batter.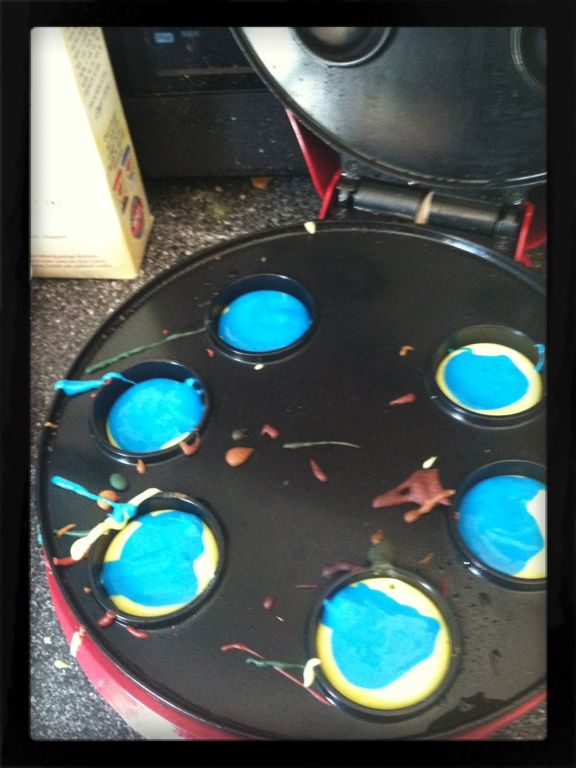 oooohhh pretty
Of course Leelee says it looks ugly. What does she know. She's 13. These cake pops were for Danger Girl who turned 9 over the weekend. Nine year olds think any type of food on a stick is cool.
Once the cake pops for the class were done, I left them to cool.
And, as any good blogger who wants a project pinned knows...presentation is crucial!
Plus, I needed a way to get the cake pops into the school while holding hands with a three year old. Not an easy task.
So, I got a box and covered it in white paper and tied a lovely ribbon and bow. It was very pretty.
Next, I put the sticks in the cake pops which resembled little multi-colored planets.
It was time to frost. Or dip in chocolate. Or something.
And this is where I realized something was going horribly wrong.
First, it was humid and hot. So nothing was really going to stick anyway. Second, the cake was just falling apart as I tried. Third, I could not figure out how anyone managed to get this piece of mushy cake to look pretty.
I did what came naturally. I whined on facebook.
That's when a friend's mom came to my rescue and told me I needed to freeze the little boogers before frosting.
But it was too late for that. I had already stuck the totally gnarly looking cake pops into the lovely box.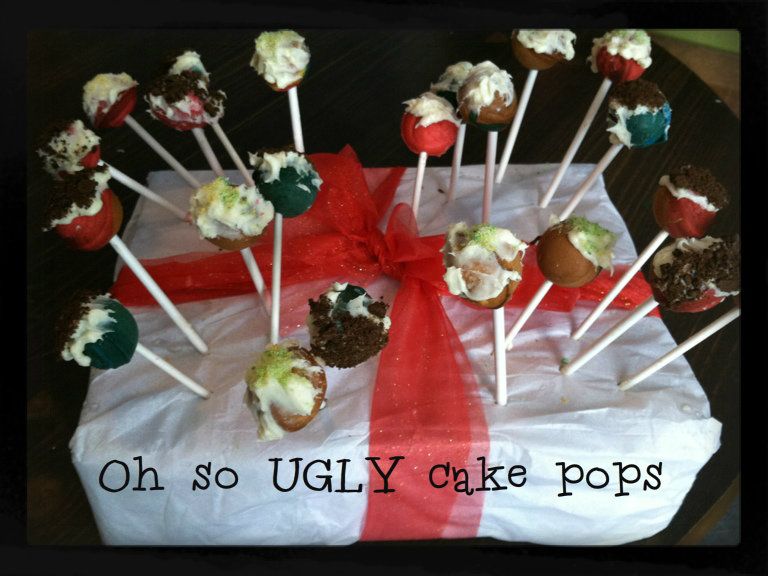 Isn't the box cute at least??
I don't think the ladies at the office had ever seen a cake pop before. They were like "ohhh those are so cute!" and I'm thinking "What the heck? These are totally UGLY!"
The kids in Danger Girl's class didn't seem to care either. It was cake. On a stick.
And my kid thinks I'm cool. So I guess it wasn't a total flop.

linked up at:
Whimsey Wednesday
**
Wow Us Wednesday
**
Homemade By You
**
Creative Spark
**
Wow ME Wednesday
**
Your Whims Wednesday
**
Back for Seconds
**
Wednesday Whatsits
**
Trendy Treehouse
**
Whatever Goes Wednesday *
*
Mom on Time Out
*
Momnivore's dilemma
**
house of hepworths
**
wildly original
**
Creative Thursday
**
kitchen fun with my 3 sons
**
Weekend Wonders
**
fantabulous Friday
**
link it up thursday
*
*curb alert
**
tater tots & Jello
**
Weekend Show Off
**