The big advantage of stocking up on meat when it goes on sale is I can focus on just buying filler foods until the next meat sale.
I actually made three trips to stores this week, but only have one picture to show for it. My first trip was the monthly Costco run that I don't figure in to my weekly food budget. I was able to stock up on sugar, baking soda, vinegar and some strawberries. There were also two trips to Publix this week.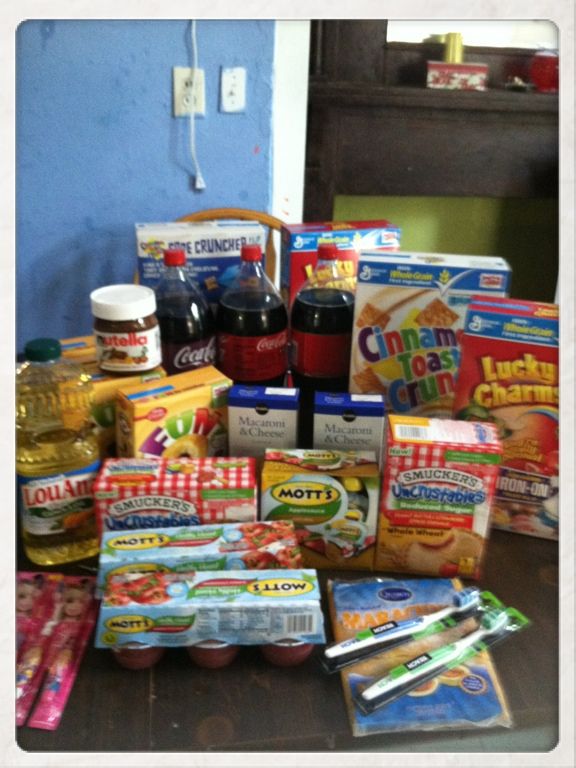 Both Publix trips were pretty small. My
new computer
I won from
The Online Mom
finally arrived. It's all kinds of awesome. And I'm now able to make extra prints of coupons.
On the first publix trip:
6 tooth brushes $1/1 reach toothbrush + $1/1 reach publix Q X4
2 Uncrustables $1/1 X2
Passion Fruit Puree
3 Cokes (B2G1 Free)
Nutella $1/1
Veg Oil .50/1
2 Mac & cheese
2 motts applesauce $1.10/2
Motts 2 Go (Free WYB 2 applesauce)
2 Cinnamon Toast Crunch .50/1 X2
2 lucky charms .50/1 X2
4 Fundamiddles (clearance price) $1/1 X2
$5/30 Winn Dixie Coupon
My total was only $26 AFTER taxes!
The next trip to Publix included many of the same goodies
2 Uncrustables $1/1 X2
2 Cinnamon Toast Crunch .50/1 X2
2 lucky charms .50/1 X2
2 yoplait kids .75/2 + $2/2 publix Q
2 chex mix .50/1 + $1/1 store Q X2
Feline Pine kitty Litter $2/1
$5/25 Save A Lot coupon
This time, the total was just $13 AFTER taxes!
What made me really smile was the fact that the kitty litter alone was $10 plus tax. It was like getting everything else for free with all the coupons!