I'm a food TV junkie.
The best part of watching the shows is when they air a really delicious looking recipe and you have all the ingredients
in the house
!
So when The Next Food Network Star had a recipe for S
weet Corn Mac n Cheese
, I knew I had to make it...and I had to include some sort of pork product.
As The Boy says, "Bacon makes everything better!"
I didn't have bacon, but I did have a ham...so I figured it would be a nice test run of the recipe before I splurged on bacon (have you
SEEN
those prices lately?)
And because the corn was hidden with cheese, The Boy didn't have a problem eating it.
I opted to skip making homemade croutons. That's 5 minutes of work I don't mind skipping in favor of panko.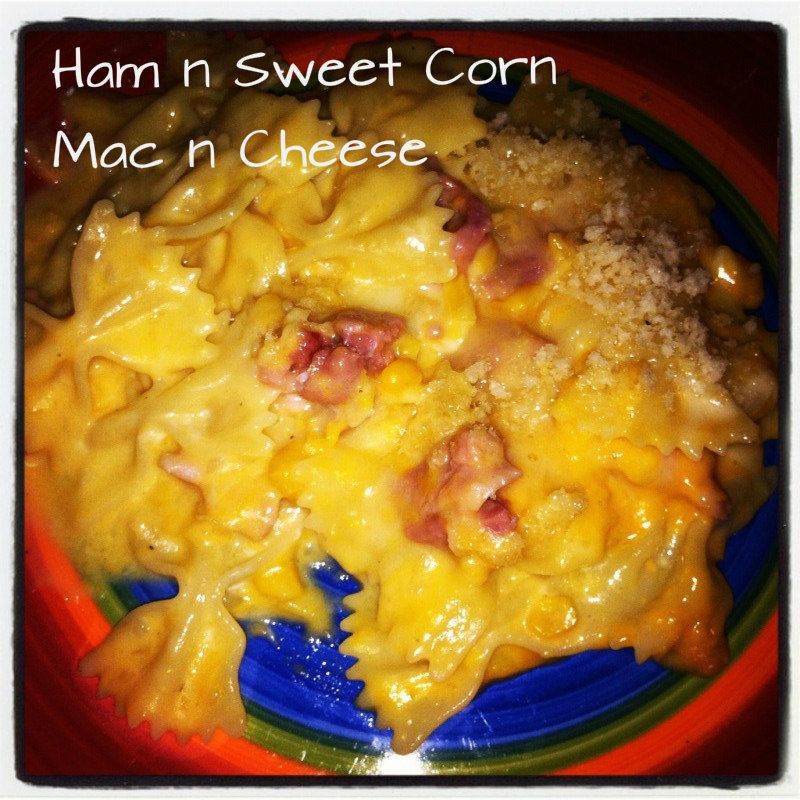 Ham n Sweet Corn Mac n Cheese
Ingredients
Two 8-ounce cans creamed corn
1 cup milk
1 heaping tablespoon cornstarch
Pinch ground nutmeg
Salt and ground black pepper
3 dashes hot sauce, optional, plus more for serving
2 cups elbow macaroni
8 ounces grated mild yellow Cheddar
12 ounces grated mozzarella
1 egg, lightly beaten
2 C chopped ham
1 C panko bread crumbs
Directions
Preheat the oven to 350 degrees F.
In a saucepan, simmer the corn with the milk for 5 minutes.
Combine the cornstarch with about 2 tablespoons water and stir well. Add the cornstarch to the corn mixture and whisk over medium heat for 3 minutes. Season the corn cream with a little nutmeg, salt, pepper and hot sauce if using. Remove from the heat, cover and keep warm.
Boil the elbow macaroni in full rolling salted water for 4 to 6 minutes. Drain the macaroni well and add to the corn cream. Add the Cheddar, half of the mozzarella and the egg. Mix in the chopped ham. Stir well.
Pour into a 4-cup casserole dish or 12-inch cast-iron skillet and top with the remaining mozzarella.
Top with panko bread crumbs.
Cook on the top rack until golden, 15 to 20 minutes.

Linked up at:
Anything Goes
**
Frugal Friday
**
Happy Hour Projects
**
House of Hepworths
**
Kitchen Fun with my 3 sons
**
tatertots & Jello
**
Fabulous Friday
**
Serenity Now
**
Weekend Show Off
**
What's Shakin'
**
Funky Junk Interiors
**
SCrumptious Sunday
**
Busy Mondays
**
Newbie Party @ Debbie Doos's
**
Mop it Up Mondays
**
Creative Me **Cure for the
Common Monday
**
Metamorphosis Monday
**
The Gunny Sack
**
Simply Sensational Tuesday
**
My Uncommon Slice
**
Cow Girl Up
**
Tuesday Confessional
**
Open Call Tuesday
**
tasty Tuesday
**
Tuesday Time Out
**
Whimsey Wednesday
**
Back for Seconds
**
Handy Man, Crafty Woman
**
Show Your Stuff
**
Thursday Food Fest
**
Ivy & Elephants
**