I don't know about you, but I really hate it when I have dinner all planned out and then discover, AS I'm cooking, that I've forgotten an ingredient.
Happens to me all the time.
And if it doesn't ever happen to you, I
really
don't want to hear about it!
Sometimes I have to improvise and other times, I'm able to pull off a miracle...like recreating an ingredient I usually buy pre-packaged.
One of the easier things to make in a crunch are flour tortillas. Keep in mind, these won't always be round ... in fact, they are so not round, you're supposed to call them
RUSTIC
...because calling things
RUSTIC
makes all things falling apart and not quite right, seem positively
STYLISH
.
The trick to getting your flour tortillas somewhat round-ish, is rolling them out on waxed paper, first from the middle making an X, then from the bottom and then across like a +. Do this a few times and the tortillas will be more round than blobby. You won't get a perfect edge, but that's what kitchen scissors are for...
trimming
.
If you can't make it, fake it, right?
I make my tortillas while I'm cooking the rest of dinner. For me, it's usually faster to make tortillas than it is to get through WalMart at 5 pm for one thing.
As if that's ever going to happen.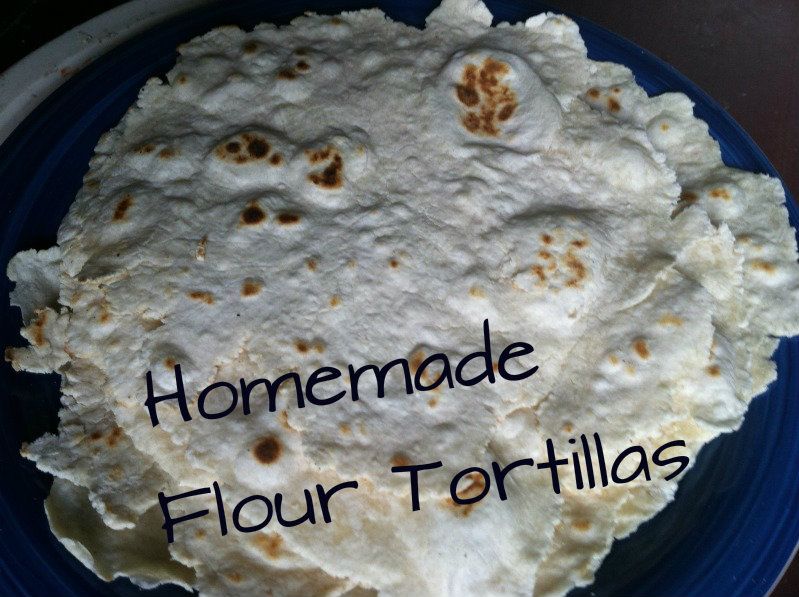 Homemade Flour Tortillas
2 cups all-purpose flour, plus extra for dusting
1/2 teaspoon salt
1/4 teaspoon baking powder
4 tablespoons vegetable shortening
1/2 cup warm water
Mix the dry ingredients in a large bowl. Add shortening, cutting in until the flour resembles cornmeal, using a fork or your hands. Hands are easier. Even better is if you have a food processor.
Add the water to the mixture a little at a time until the dough is soft and not sticky. Place the dough on a lightly floured surface and knead the dough for a few minutes until smooth and elastic. Divide the dough into 8 equal pieces and roll each piece into a ball.
Let rest, covered with a towel, about 15 minutes. I sometimes skip this step, because I'm in a hurry.
Preheat a large skillet over medium-high heat.
Use a rolling pin to roll each dough ball into a thin tortilla, starting at the middle and going up to the upper right at an angle, then center to the upper left...center to lower right, center to lower left. Next. start at the bottom and roll up, then roll across. Do this until the tortilla is thin.
Place the tortillas one at a time into the skillet and cook until bubbly and golden, about 1 1/2 minutes. Flip the tortilla and continue cooking until golden on the other side.

Linked up at:
Pin Inspiration Thursday
**
Made U Look
**
A Glimpse Inside
**
Taking a Time Out thursday
**
Let Your Light Shine
**
Happy Hour Projects
**
Flaunt it Fridays
**
Days of Chalk & Chocolate
**
Kitchen Fun with my 3 Sons
**
Recipe Share Monday
**
The Shabby Nest
**
Here Comes the Sun
**
House of Hepworths
**
tatertots & jello
**
Cheerios & Lattes
**
It's Overflowing
**
Sunday Scoop
**